Two terrorist organizations operating against Iran sent their envoys to a London meeting arranged by MI6 to orchestrate joint terrorist operations against Iran's interests.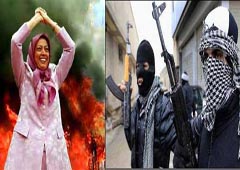 A report by Didehbancenter website said during the meeting between representatives of the terrorist Mojahedin-e Khalq Organization (MKO, also known as the MEK, PMOI and NCR) and remnants of the Jundollah group, the two sides reviewed an agreement they had earlier signed under the auspices of the US spy agency, CIA, in the Pakistani city of Quetta.
The report said Abdol Rauf Rigi, an elder brother of Jundollah's executed ringleader Abdolmalek Rigi, Jundollah's Mufti (religious authority), Mowlavi Qassem Panchgori and Saeed Turkmen Zehi – who had hidden in Saudi Arabia after Jundollah was disbanded in several operations of the Iranian police and security forces in 2009 and 2010 – represented Jundollah in the London meeting.
Based on the agreement, the MKO is tasked with training members of Jundollah in intelligence gathering, assassination operations and designing and making bombs.
The notorious group has built a safe haven in Pakistan and it escaped to this Eastern neighbor of the Islamic Republic each time it staged a terrorist operation in Iran before it was disbanded and its leaders were arrested and executed.
In its last operation in Iran, the Pakistani-based Jundollah terrorist group claimed responsibility for December 15, 2010 attack at the Imam Hussein Mosque in Iran's Southeastern port city of Chabahar in Sistan and Balouchestan Province where people were commemorating the martyrdom of Imam Hussein (PBUH), the third Shiite Imam.
At least 38 mourners were killed and more than 89 others, including women and children, were injured in the attack.
The Jundollah group has claimed responsibility for numerous terrorist attacks in Iran. The group has carried out mass murder, armed robbery, kidnapping, acts of sabotage and bombings. They have targeted civilians and government officials as well as all ranks of Iran's military.
In one of the worst cases, the terrorist group killed 22 citizens and abducted 7 more in the Tasouki region on a road linking the southeastern city of Zahedan to another provincial town.
In 2007, Jundollah kidnapped 30 people in the Sistan and Balouchestan province and took them to the neighboring Pakistan.
Jundollah claimed responsibility the same year for an attack on an Islamic Revolution Guards Corps (IRGC) bus in which 11 IRGC personnel were killed.
In another crime in October 2009, the Pakistan-based terrorist Jundollah group claimed responsibility for a deadly attack in the Sistan and Balouchestan province which killed 42 people among them a group of senior military commanders, including Lieutenant Commander of the IRGC Ground Force Brigadier General Nourali Shoushtari.