Rohi blog today exposed that Maryam Rajavi, head of the terrorist Mojahedin Khalq Organisation (formerly known as Saddam Private Army) has clandestinely travelled to Finland to appear in a show pretending to be the head of the Iranian opposition movement. [the full report (Persian)]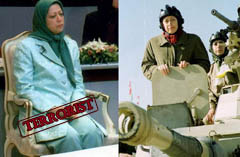 Maryam Rajavi accompanied by paid agents of the terrorist cult has booked a room from Finlandia Hall (booked under the name of Soraya Stern).
It is worth mentioning that two of Rajavi's henchmen were arrested in Finland last year when they were pursuing terrorist activities in Finland.
The blog has expanded on this news, exposing the true face of Maryam Rajavi and the crimes against humanity and war crimes committed by the MKO cult leaders.
It is widely believed that these clandestine trips to remote countries like Finland serve as cover for meetings between Rajavi and the CIA.
Iran Interlink reporting form Rohi blog,