The Iraqi people in the city of Al-Khalis in Diyala province call on the future Iraqi government to expel the terrorist Mojahedin Khalq (MKO) group from the country as soon as possible.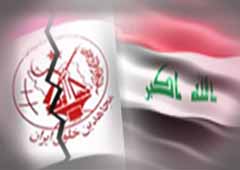 The people of Al-Khalis urged the next government to expel the members of terrorist MKO group, stationed in Camp Ashraf in Diyala province. They said the MKO's case was resolved through the country's constitution and the group had no place in Iraq, Iran's Mehr News Agency quoted Nahrain news website as saying.
The local officials and the citizens of Al-Khalis have clung to the hope that the "State of Law" coalition and "National Coalition Government" will prepare the ground to expel of the terrorist group, if they win the election, Al-Khalis governor's office said.
Meanwhile, a leader of Badr Organization, Abbas Al-faridavi in Diyala Province reiterated that the MKO group is behind the assassination of Shia leaders and innocent citizens of Diyala and that many complaints have been lodged against them, but since the courts of the province had surrendered to the Baath and MKO groups, none of the complaints were investigated.
The MKO was allowed by former Iraqi dictator Saddam Hussein to build a camp in eastern Iraq near the Iranian border in 1986 in order wage war and terror on Iran. Iraqis say that the MKO also helped Saddam in killing and spying against his opponents. The group remained under the protection of US-led forces after the invasion of the country in March 2003.
The group is responsible for numerous acts of violence against Iranian civilians and government officials as well as Iraqis during the rein of Saddam.
After the American forces handed over the security of Camp Ashraf to the Iraqi government, the Iraqi Premier, Nouri al-Maliki decided to relocate the MKO group to a remote detention facility in the southern parts of Iraq as a prelude to their expulsion.
The decision was reportedly hampered by the intervention of pro-Israeli US congressmen, who called on the President Barack Obama to stop the relocation of MKO members.