Meeting of 17, March 2010, European Parliament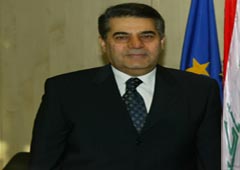 Delegation for relations with Iraq
D-IQ_PV(2010)0317_1
MINUTES
of the meeting of 17 March 2010, from 15.00 to 16.00
Brussels
http://www.europarl.europa.eu/meetdocs/2009_2014/documents/d-iq/pv/812/812535/812535en.pdf
The meeting opened at 15.00 on Wednesday, 17 March 2010, with Struan Stevenson (Chair)
in the chair.
(…)
4. Exchange of views on the Iraqi national elections of 7 March 2010, in the presence of: – H.E. Mr Mohammed Jawad AL-DOREKY, Ambassador of Iraq, and – Ms. Patricia LLOMBART CUSSAC, Head of Unit for relations with the Gulf countries, Iran, Iraq and Yemen at the European Commission
HE Ambassador Mohammed Jawad Al-Doreky stressed the importance of these elections, as second cycle after the dictatorship, especially that the government to be formed will be the first one to rule the country after the withdrawal of the foreign military forces. He thanked Members who commended the large participation of Iraqis to vote. He stressed the efforts made for a good organisation of the elections, mentioning that IHEC members were chosen by the parliament and that United Nations Assistance Mission for Iraq (UNAMI) supported them continuously. He stressed that the elections were under the scrutiny of a large number of monitors and observers, national and international. He acknowledged that frauds might exist, but stressed that if there are accusations of fraud they should be brought to the attention of the IHEC (further step, to Court). He underlined that accepting allegations from people nonidentifiable or writing articles on that matter will not help solving the problem but could bring a lot of damage to the Iraqi – EU relation. In context, he stressed that in Iraq the People's Mujahedin of Iran (PMOI) is considered a terrorist organization. For clarifying the position of the Members of the Delegation, he asked for a statement to be issued in which to be specified that the Delegation is not taking sides and is waiting for the results of the elections and for the report of EU monitors.
Mr Stevenson replied stressing that his aspirations are to support all Iraqis in seeking free, democratic, open society, including the end of insurgency. He underlined that he has not been hijacked by any political party or entity in Iraq, that he is not supporting a particular party; he is not biast in any way and looks forward to work with any new government in Iraq. He stressed also the importance for an emerging democracy to handle the allegations of fraud in elections, and that that could be handled by the IHEC.