The Supreme Iraqi Criminal Court issued an arrest warrant against Massoud Rajavi, head of the Mojahedin Khalq, an Iranian opposition, Arrest warrants Have also been issued against 37 others, including his wife, Maryam Rajavi, and his lieutenant Kazemi, according to (s /1/149) of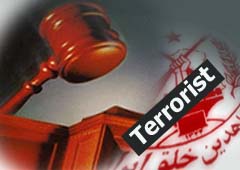 13/6/2010, Article (12) in place of Article (15) of the Code of Court No. 10 of 2005, which means that the Iraqi Interior Ministry and Interpol are notified to bring them to court.
On the other hand Diyala recognizes the sovereign responsibility of the Iraqi government and security forces and the dispensing of full security to the camp in the new Iraq Khalis district, (formerly Camp Ashraf) in place of the U.S. troops who were responsible for the inside of Camp New Iraq since the fall of the former regime in 2003.
An official ceremony took place on Friday, the 2nd July which was attended by a number of security leaders and military personnel in the Iraqi army and the U.S. within Camp New Iraq (camp Ashraf earlier) according to the implementation of the security agreement signed between Iraq and the United States for the delivery of venues and sites by the U.S. military to the Iraqi government and Iraqi military in order to achieve Iraq's full sovereignty over its territory and be responsible for maintaining security and order throughout Iraq. The Iraqi army and the Iraqi security apparatus and the government will take responsibility as the Iraqi administration for the overall security of Camp Ashraf (Mojahedin-e Khalq).
A ceremony took place at Camp New Iraq (Camp Ashraf) in the presence of Iranian families in front of the gate of Camp Ashraf who have been there for four months. The families looked forward to the receipt of responsibility for camp Ashraf by the Iraqi government and the Iraqi security from U.S. troops, stressing that U.S. military commanders have, over the past eight years, been supporting the policies and negative attitudes of the organization and leaders within the camp, as well as not sympathising with the families from Iran, nor responding to their demands to meet their children who are detainees inside the camp without the intervention and control officials in the organization, and their rejection of the responsibility over the past years to intervene to end the suffering of families and the pressure on the organization's leaders to allow the families of Iranian access to their children. The families hope to soon embrace their children and return them to their homes after the success of the Iraqi government and security services in regaining sovereignty and security of the Camp New Iraq (Camp Ashraf).
Translated by Iran Interlink