Following the appeal made by the families who have been picketing outside cultic base of Mojahedin-e Khalq Organization (MKO – Rajavi cult) to visit their relatives confined inside Ashraf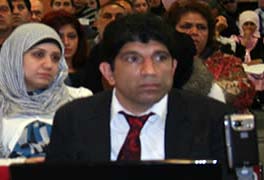 garrison for nearly six months, and also their expression of concern about arresting one member of MKO while trying to escape from the cult and having no news about his whereabouts and his destination, Mr. Behzad Alishahi visited some representatives of independent humanitarian groups on 7th and 13th of July 2010 in The Hague in Netherland and informed them about the latest developments and the extent of psychological pressure over the members inside the cult and urged them to put their pressure on the leaders of MKO in order to find a humanitarian solution.
In these visits Mr. Alishahi asked the representatives to travel to Iraq and visit Ashraf garrison and talk to the families to learn more about the truth. He also recommended accompanying them in such a trip in order to save the lives of those captured and ending the anticipation of the miserable families.
The visits were made with Mr. Patrick van kole the representative of the humanitarian organization of Stopping Torture and Mr. Michael Helmont the representative of the independent organization of ARAMI and Ms. Francis Josiele the representative of the National Council of Human Rights. Also in previous weeks a visit was made with Mr. John van Maasakkers the mayor of the city Gemert in Netherland who have visited members of MKO before. He was informed by Mr. Alishahi about Rajavi cult and the methods that the members are mind manipulated and also the situation of the families. A video excerpt was shown in this regards.
Sahar Family Foundation on behalf of suffering and anxious families would like to thank Mr. Behzad Alishahi and his aides and all those who strive for the just demand of the families who desire to visit their relatives. We wish them all success in their good work. We are also waiting to visit Mr. Alishahi and his friends in Iraq.