On Monday October 4th, 2010 a number of Iraqi tribal nationals from Salahuddin Province including Doctor Nafe' and Ms. Dm-i-Ali offered their sympathy to families who are on strike in front of Ashraf gates. Iraqi journalists were also present at the meeting that lasted a few hours.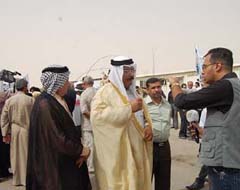 Mrs. Abdullahi [a mother of an Ashraf resident] representing the Iranian families told the visitors:"we have been here on strike for nine months, suffering the worst situation. Our single request is visiting our loved children of whom some have been captive in Camp Ashraf for two decades. The cult of Rajavi refuses this small wish to fulfill, since it is contrary to its cult-like substance."
The tribe's deputies said that they had had no idea of the families strike at Camp Ashraf and MKO had abstained to respect such a reasonable right.
They promised to pursue the case in Iraqi judiciary and media. Some of the visitors were so impressed by Mrs. Abdullahi's words and her words brought a tear to their eyes.listening to her with tearshat they couldn't help their tears.
During the visit a few recently defected members of MKO also spoke to the audience by clarifying the current atmosphere ruling the cult. Their descriptions caused extreme wonder among the attendees.