For the first time Baghdad will host the Black Plague Exhibition on November 2, 2010.
A number of members of the House of Representatives and political figures as well as national organizations will attend the Conference and exhibition.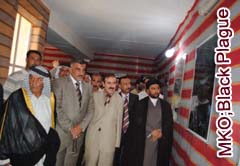 This is a photographic exhibition exposing the crimes and practices of the Mojahedin-e- Khalq Organization in the province of Diyala ,Iraq.
The exhibition comprises 100 large colour photographs (100 × 70) cm.
It is worth mentioning that the exhibition held in Diyala Province on September 2010 and was attended by several members of the House of Representatives, local government officials of Diyala province along with Senate members, academic figures, the media and managers of departments in the district of Khalis as well as Tribes leaders.