Governor of Iraq's Diyala province has held the terrorist Mujahedin-e Khalq Organization (MKO) responsible for the recent surge in violence across the northeastern region.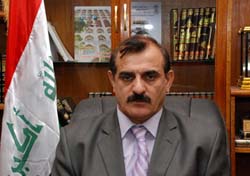 "Intelligence reports drawn by the security committee in Diyala prove that MKO hands are involved in a series of deadly terror attacks and explosions in the province," Fars news agency cited Abdul Nasser al-Mahdawi as telling AK News on Tuesday.
Mahdawi added that the terrorist organization has managed to train elements of other extremist groups and help them sneak into Diyala province to engage in terror activities.
The Mujahedin-e Khalq Organization was founded in Iran in the 1960s, but its top leadership and members fled the country in the 1980s after carrying out a series of assassinations and bombings inside the country.
The terrorist group is behind the killings of thousands of Iranian civilians and officials over the past 30 years. One of their deadliest attacks was a 1981 bombing that killed Iranian Judiciary chief Ayatollah Mohammad Beheshti, along with 71 other senior officials.
In 1999, MKO assassinated the chief-of-staff of Iran's Armed Forces, Ali Sayad Shirazi, in front of his house in the early hours of April 10, as he was preparing to leave for work.
MKO is notorious for the cult like tactics it uses to keep its members in line — namely murder and torture of its defectors.
Numerous articles and letters posted on the Internet by family members of MKO recruits confirm reports of the horrific abuse that the group inflicts on its own members and its reliance on dubious methods to lure new members into its fold.
The MKO is also known to have cooperated with Iraq's executed dictator Saddam Hussein in a cruel suppressing of a 1991 uprising in southern Iraq and the massacre of Iraqi Kurds.