Sahar Family Foundation reports from demonstration at the gates of Camp Ashraf
As previous reports, yesterday thousands of Iraqi people including prominent Iraqi dignitaries, heads of tribes, reporters and journalists gathered in front of the gates of camp New Iraq (formerly Ashraf) to protest the presence of the military garrison of Rajavi cult (Mojahedin Khalq, MKO, MEK, NCRI) in this land and their direct interference in the internal affairs of Iraq. They demanded that the terrorist organisation be dealt with according to the constitution of Iraq and expelled from the country.
This popular gathering showed the anger of the people of Iraq against the presence of the terrorist cult backed by the US forces still present in the country. The gathering came under attack by the brainwashed members of the Mojahedin Khalq who threw stones using specially made equipment for launching them. The act resulted in the injury of some of the participants including Dr. Nafe the head of the Iraqi committee for the support of the picketing families.
Sahar magazine number 03 which is now published in Arabic was distributed among the leaders of tribes and the personalities and reporters present at this event. Iraqi dignitaries and the picketing families had various interviews with the reporters from a variety of media.
It is now almost a year that the suffering families of the captives inside the camp are continuing their picket in front of the camp demanding the right to visit their loved ones. The families joined the demonstration repeating their demand of free and unfettered access to their captive loved ones inside the camp.
Some TV channels gave coverage to the event and the Alsabah, Al yom alsabe, Al Khalij, Alanba and many other media reported this event in their morning issues – other coverage is also expected.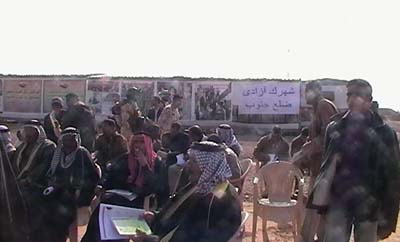 The Iraqi tribal leaders and personalities signed a petition asking for the deportation of the Mojahedin Khalq from Iraq. NGOs and others have given out statements which will be reported at a later time.
Translated by Iran Interlink