Interpol has gained information about the second suspect in the alleged plot to assassinate the Saudi ambassador to the United States indicating that he is a key member of the Mujahedin-e Khalq Organization (MKO).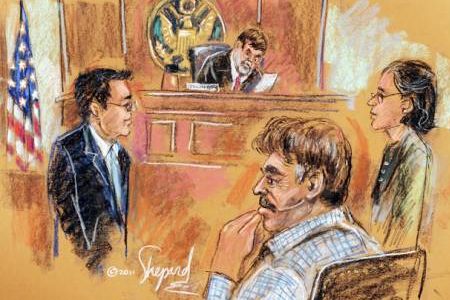 This drawing shows Mansour Arbabsiar (second from right) in New York federal court. (file photo)
A source told the Mehr news agency on Monday that Interpol has learned that Gholam-Hossein Shakouri, aka Ali Shakouri and Gholam Shakouri, the second suspect in the alleged plot to assassinate the Saudi Arabian ambassador to Washington, is one of the senior members of the MKO, which is an anti-Iranian terrorist group.
Shakouri has travelled to numerous countries with many fake identity documents, including forged Iranian passports, and he was last seen in Washington and at Camp Ashraf, where MKO members are based, the source added.
One of the passports used by Shakouri was issued on November 30, 2006 in Washington with the number K10295631.
The MKO fled to Iraq in the 1980s, where it enjoyed the support of former Iraqi dictator Saddam Hussein and set up Camp Ashraf in the eastern province of Diyala, near the Iranian border.
Over 3,000 MKO members are currently residing at the camp. In addition, the group has sent elements to Iran on spying and terrorist missions.
The MKO is listed as a terrorist organization by much of the international community and has committed numerous terrorist acts against both Iranians and Iraqis.
Iran has repeatedly called on the Iraqi government to expel the group, but the US has been putting pressure on the Iraqi government to block the expulsion.
Earlier in the day, a senior Pakistani intelligence official said that the prime suspect in the alleged plot, Mansour Arbabsiar, who is also a cousin of Shakouri, had received forged identity documents from the Israeli intelligence agency Mossad.
On October 11, the US Justice Department accused Iran of plotting to assassinate Saudi Arabian Ambassador Adel al-Jubeir, with help from a man suspected of being a member of a Mexican drug cartel.
Tehran says the media hype created by Washington is an attempt to deflect international attention from the anti-corruption and anti-corporatism protests currently rocking the country.
Iran's envoy to the UN, Mohammad Khazaei, has filed a complaint against the US for what he called the "evil plot."
Iranian Foreign Minister Ali Akbar Salehi has described the US accusation as an immature scenario and says US officials will ultimately be forced to apologize.