ADVT's Letter to Executive Director of UN Women
In a letter to Ms. Michelle Bachelet, Executive Director of UN Women, Association for Defending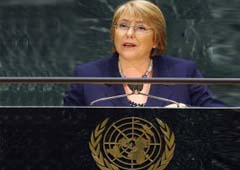 Victims of Terrorism depicted the deplorable condition of women in Mojahedin-e Khalq cult.
Dear Ms. Michelle Bachelet:
Executive Director of UN Women
There is a global consensus on the necessity of implementation of the rights of women and the establishment of justice, equity, freedom and dignity for them. However, despite all the efforts made for this purpose, there are still many women who undergo violence and discrimination just for being female. In this regard, the approaches adopted by some cults towards women are the source of the worst types of oppression against them. Based on international reports and documents (including German Federal Office 2003, FBI 2004, Human Rights Watch 2005, RAND 2009, US Department of State 2009, 2010 annual report of the Human Rights Office of UN Assistance Mission in Iraq,…) and the confessions of Mojahedin-e Khalq's (MKO/MEK/PMOI) defected members, this terrorist cult is one of the worst violator of women's rights. We, the members of the Association for Defending Victims of Terrorism of Middle East consider it necessary to draw the attention of the officials of international institutions to the crimes being committed against women in Mojahedin-e Khalq cult. May the preparations for the release of the members of this group be made and all of them specially women can return to their families.
Deplorable conditions of women in this cult: The issue which has raised many concerns is the way of treating women in this cult. Leaders of this terrorist cell have deprived their female members from the rights of marriage, having child, loving their family members, using cosmetics or choosing their own way of life. The surprising point is that women even do not have the right to think about the opposite gender and the violators of this law would deserve prison and punishment. This is while Article 5 of the Universal Declaration of Human Rights asserts "No one shall be subjected to torture or to cruel, inhuman or degrading treatment or punishment".
Involuntary divorce: a report issued by American National Defense Institute (RAND) reads:" As a part of the "ideological revolution," the Rajavis mandated divorce and celibacy. Compulsory divorce required couples to place their wedding rings in a bowl and renounce their affections for one another." However, the rules do not apply to the leaders. This is while section 1 of the Article 16 of the Universal Declaration of human Rights says "Men and women of full age, without any limitation due to race, nationality or religion, have the right to marry and to found a family." Since 1985 no one has got married in this cult and this right just applies for the leader. However based on Massoud Rajavi's decree, all females belong to him and they should not think about any other men.
Separating children from their parents: Most of the female members of the MKO, who had a child before entering into the group, handed over their children to the organization and promised to never think about them. After separating children from their parents, the organization transfers children to other countries and relocates them in charity institutes and through introducing them as orphans raises fund.
Gender separation: Despite MeK's claim of supporting gender equality and giving leadership roles to women, men and women are kept strictly apart in MeK camps. Housing is segregated by gender, and in other buildings, lines are painted down the middle of hallways, separating them into men's and women's sides. The MeK holds daily, weekly, and monthly "sessions" that involve forced public confessions aimed at expelling deviant thoughts and behaviors that are believed to undermine group coherence.
Denying the Right to Motherhood: Referring to the prohibition against giving birth since 1985, defected members of the organization disclosed that most of the female members involuntarily gone under hysterectomy surgery.
Self-immolation: applying brainwashing and mind-manipulation techniques, MKO leads members to death. One of the evidences is the self- immolations of 2003 in which three female members of the MKO (Marzieh Babakhani, Seddigheh Mojaveri and Neda Hassani) set themselves on fire. One of them was 25 years old.
Revealing the sufferings of the families of terrorism victims, Association for Defending Victims of terrorism intends to prevent the innocent men and women from being deceptively recruited by terrorist groups like al-Qaeda and Mojahedin-e Khalq. The deplorable situation of 1000 female residents of Ashraf Camp hurts the hearts of all liberals and women' rights supporters. Therefore, we would like to ask your Excellency to immediately take the necessary steps for returning the imprisoned women of MKO to the bosom of their society and family and avoid their further brain washing by the cruel leaders of Mojahedin-e Khalq cult.