The Iraqi ambassador to Iran says Azerbaijan and a number of other countries have agreed to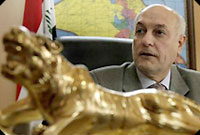 receive nearly 900 members of the terrorist group of Mujahedin-e Khalq Organization (MKO).
"Necessary measures are being taken through the cooperation of the Red Cross and Iraqi officials to transfer these individuals," Mohammad Majid al-Sheikh told ISNA on Tuesday.
"The decision to expel MKO from Iraq has been taken by the government and this decision is irreversible, and non-extendable," the Iraqi envoy added.
Commenting on some of the European states' protest to Iraq's decision, al-Sheikh said Baghdad has no problem with other countries accepting MKO members.
"Unfortunately countries that support these people do not take serious measures to take them in," he noted.
The Iraqi government has made its plans clear for closing down Camp Ashraf, which harbors about 3,500 MKO terrorists at a location about 120 kilometers (74 miles) west of the border with Iran, before the US troops pull out of the Middle Eastern country by the end of 2011.
MKO members fled to Iraq in 1986, where they enjoyed the support of the slain Iraqi dictator Saddam Hussein, and set up Camp Ashraf in Diyala province near the Iranian border.
The group is known to have cooperated with Saddam in suppressing the 1991 uprisings in southern Iraq and the massacre of Iraqi Kurds.
Iran has announced that all the residents of the Camp Ashraf except those who have criminal records can return to the country.