Isolated in a fenced area by barbed wire, in hot desert of Iraq, without having been determined as refugees, kept in their highly–guarded units, residents of Camp Ashraf are certainly stuck in the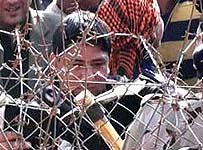 most complex situation. Besides, the leaders of the camp have been manipulating the members for over thirty years now. The residents have no freedom of expression and no access to the outside world. It is too difficult for outsiders to get comprehensive information on what is really going on in the Camp. Regarding cult-like characteristics of the group, evacuation or relocation of MKO members is still a critical issue that the international community really panics.
"U.S. officials fear that unless MEK leader Maryam Rajavi gives her approval, there will be a bloodbath at Camp Ashraf", writes Barbara Slavin of IPS. "There are particular concerns that MEK members will clash with Iraqi security forces or commit mass suicide." [1]
The U.S. administration is supporting a plan led by Ambassador Martin Kobler, the U.N. special representative to Iraq that would allow for a peaceful transfer of the residents of Camp Ashraf to a new facility in Iraq. The plan would also work to repatriate MEK members to Iran who go "voluntarily," or resettle to third countries under the auspices of the U.N., CNN reports. [2]
"The good news here is that in the past two weeks, Ambassador Kobler and the Iraqi government have made significant progress on this plan," an official told CNN on condition of anonymity due to the sensitivity of ongoing negotiations between the U.N., the Iraqi government, and the MKO. [3]
The alleged progress perhaps included the relocation of Ashraf residents in Camp Liberty, a single "temporary relocation" facility near the Baghdad International Airport. The location is "an accessible, not inaccessible part of the country," quoted CNN from the official. [4]
The MKO leaders' reluctance to leave their ideological preserve, Camp Ashraf was not welcomed by either Americans or Iraqis. Barbara Slavin cites of a US official, "after much regrettable stalling, the MEK finally seems ready to engage seriously". "This is good, but the MEK must be realistic, and time is short", the official added. [5]
The official added that while MEK leaders have backed off from "maximalist positions" in the last 48 hours, "We're still hearing talk about martyrdom and dying."[6]
If the residents are given the chance to choose their place of life, there are definitely a large number who are willing to leave the group and to get released of the extreme pressure imposed on them by the camp authorities. "Particular attention should be given to the approximately 70 percent of the Camp Ashraf population that joined the MeK after the group relocated to Iraq" according to RAND Corporation report. "A substantial number of these MeK members were lured to Iraq under false pretenses or did not have a clear understanding of the group's goals and methods of operation—particularly with respect to its cult behavior—and many have been forced to remain against their will. [7]
U.S. officials do not know for sure how many people are at Ashraf but believe they include minors and others who were tricked into going to the camp. There they were subjected to military training and mind control exercises that include cult-like devotion to Mrs. Rajavi and her husband Massoud, whose whereabouts are unknown, asserts Slavin.[8]
As a matter of fact, it is the absolute right of over 3000 Ashraf inhabitants to be got the opportunity and the place where they can think of and decide for a normal future. It is also the absolute right of the Iraqi government to assert sovereignty over its territory of which a large area has been occupied by the MKO for over 3 decades – the camp was handed over to the group by Saddam Hussein who gave them a military and financial support as well.
Iraqi people are in the same party with their government in their protest against the presence of the MKO in their soil. On December10, Hundreds of Iraqis took part in a "protest rally to demand the expulsion of members of the terrorist Mujahedin-e-Khalq Organization," reported Press TV. [9]
A more recent protest also took place on Friday December 16 in Baghdad where thousands of Iraqi people held a demonstration in Tahrir square in central Baghdad calling for expulsion of the MKO. [10]
In an outstanding article, in the Washington Post, titled "Building a Stable Iraq", Iraqi prime Minister, Nouri Al Maliki notes his country's determination to "put Iraq's new democracy on the right path" but he notifies that "challenges remain". He names Baathist "who seek to destroy Iraq's democratic process". He refers to Ashraf residents as source of a "great deal of controversy" in Iraq and in the United States. "I would like to see this complex issue resolved peacefully and with the help of the United Nations." he writes. "The Camp's residents are classified as a terrorist organization by many countries and thus have no legal basis to remain in Iraq." [11]
Confirming Iraq's right to have control over its entire territory, Maliki writes, " country wouldn't accept the presence of foreign insurgents on its soil, but we will work hard to find a peaceful solution that upholds the international values of human rights."[12]
Predictions on the place where Ashraf residents will be relocated after its complete expulsion from Iraq, is another challenging issue. The Iraqi ambassador to Iran says Azarbayjan and a number of other countries have agreed to receive nearly 900 members of the terrorist group of Mujahedin-e Khalq Organization (MKO), reported Press TV.[13]
Mohamamd Majid Al-Sheikh said, "Necessary measures are being taken through cooperation of the Red Cross and Iraqi officials to transfer these individuals." [14]
On its turn the international Committee of Red Cross, "welcomes the Iraqi authorities' commitment not to transfer Camp Ashraf residents to Iran against their will, and will continue to monitor the situation to ensure that the Iraqi authorities fulfill this commitment" said Beat Schweizer, head of ICRC delegation in Iraq. [15]
Mr. Schwiezer mentioned previous experiences of ICRC in aiding former members of the group to return to their home country Iran." we have been facilitating the repatriation of former residents of Camp Ashraf who wish to go back to Iran" he said. "Since 2003, the ICRC has arranged for repatriation of over 250 Camp Ashraf residents to their home country, in cooperation with its delegation in Tehran. The ICRC has helped repatriated seven former residents in 2011, with the most recent repatriation taking place in August." He also declared that ICRC is prepared to continue helping residents return Iran. [16]
A more recent Iraqi stance against MKO presence in Iraq was published by Agence France Press on December 15th. In the interview with AFP Nouri Al-Maliki said that Baghdad's decision to close Camp of New Iraq – the name that was given to Camp Ashraf After it was handed over to Iraq — by year end is "irreversible". [17]
It seems that the way is approximately paved for the ultimate evacuation of Camp Ashraf and Iraqi government is determined to wipe its territory off occupiers but concerns over the fate of the residents do not simply come to an end. In response to Amnesty International that is allegedly concerned over "the serious risk of severe human rights violations if the Iraqi government goes ahead with its plans to force the closure of the camp by the end of this month", the senior U.S. administration official said Amnesty, instead, should urge the MEK to sign onto the plan "at hand and not encourage people to die". [18]
By Mazda Parsi
Sources:
[1]Slavin, Barbara, Mass Tragedy Feared as Closure of MEK Camp Looms, IPS, Dec 19th,2011
[2]Crawford, Jamie, U.S. supports plan to relocate terror group, CNN, Dec. 19th,2011
[3]ibid
[4]ibid
[5] Slavin, Barbara, Mass Tragedy Feared as Closure of MEK Camp Looms, IPS, Dec 19th,2011
[6]ibid
[7] Goulka, Jeremiah, Lydia Hansell, Elizabeth Wilke, and Judith Larson.
"Mujahedin-e Khalq in Iraq: A Policy Conundrum." *RAND National Defence
Research Institute* (2009): Web. 3 Nov 2010.
[8] Slavin, Barbara, Mass Tragedy Feared as Closure of MEK Camp Looms, IPS, Dec 19th, 2011
[9]Press TV, Iraqis want MKO terrorists expelled, December 10, 2011
[10]Tehran Times, Iraqis rally demanding MKO expulsion, December 16, 2011
[11]Al-Maliki, Nouri, Building a stable Iraq, WashingtonPost, December10, 2011.
[12]ibid
[13]PressTV, Azarbayjan to take in MKO members, Decemebr10, 2011
[14]ibid
[15]International Committee of Red Cross Official Website, Situation remains uncertain for residents of camp Ashraf, Decemebr13, 2011
[16]ibid
[17]Karim Ammad, Nuri al-Maliki: decision to close Camp ashraf is final, we cannot allow a criminal gang to remain in Iraq, AFP, Decemebr15, 2011
[18] Slavin, Barbara, Mass Tragedy Feared as Closure of MEK Camp Looms, IPS, Dec 19th,2011