MKO has no right to remain in Iraq, says Iraqi ex-minister
Former Iraq's minister for tribal affairs pointed out that MKO is a terrorist group and it is on the list of state sponsors of terrorism, adding that they have no right to remain in Iraq "since the country's (Iraqi) constitution prohibits presence of terrorist groups on its soil."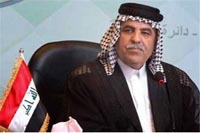 According to Habilian Association database, a member of the Iraqiya White bloc, Jamal al-Battikh, recently told the press that Mujahedin-e Khalq is a terrorist group.
Former Iraq's minister for tribal affairs pointed out that MKO is a terrorist group and it is listed as a terrorist organization internationally, adding that they have no right to remain in Iraq "since the country's (Iraqi) constitution prohibits presence of terrorist groups on its soil."
"Moreover, this organization is accused of committing crimes against Iraqi people," added al-Battikh.
Last week Iraqi MP Hassan al-Sari said that "a joint operation between United States and Mujahedin-e Khalq terrorist group for instigating a revolt in Iraq is not unlikely."
Al-Sari expressed his worry about plans of US and MKO to weaken (Iraq's national) security and increase tensions in Diyala, Baghdad, and other cities, adding that the reason for his concerns is the common interests between the two sides as well as ongoing US supports for the group (Mujahedin-e Khalq), which its inhumane crimes have been proven.