A senior Iraqi lawmaker says the MKO's being supported by a number of al-Iraqiya bloc members is not so important to be discussed in the Parliament of Iraq, as the national consensus is to expel Mujahedin-e Khalq group from Iraq.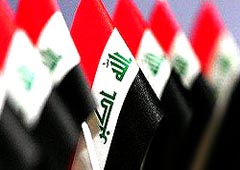 "There is a national consensus in this regard, and there is also an article in the Constitution dedicated to the subject that the Iraqi soil is not a place for aggressors to the neighboring countries," Iraqi Parliament's Foreign Relations Committee chairman, Dr. Humam Hamoudi told Habilian.
Hamoudi went on to say that the terrorist group has "spilt the blood of many Iraqi people, and violated the Iraq's sovereignty by refusing the entrance of Iraqi security forces (to Camp Ashraf) and involving in a conflict with them."
"Iraqis have unanimously resolved (to expel MKO) which is approved and supported by the cabinet and Parliament," he added.
"People have been called to file a lawsuit before international courts in order to force MKO to pay the damages they have imposed on the Iraqis."
Chairman of the Foreign Affairs Committee of the Iraqi Parliament described the presence of MKO in the Iraqi soil as a "resolved and finished issue", because "their continued presence on Iraqi soil is "against the country's Constitution."