The UK Home Secretary barred Maryam Rajavi from coming to Britain.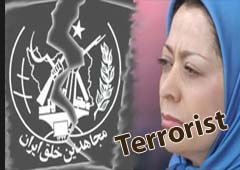 According to Evining Standard, some British parliamentarians are angry at Theresa May, the Home Secretary, after she barred Maryam Rajavi from coming to Britain.
The ban was imposed on Maryam Rajavi after the Home Secretary claimed that her presence on the country's soil might damage efforts to stop Iran obtaining nuclear weapons and put Britons in the country at risk.
Baroness Boothroyd, the former Commons Speaker, and Lord Waddington, a former Conservative home secretary, have denounced the ban as "intolerable" and are bringing a judicial review in an attempt to overturn it.
After her presence in the European Parliament, Rajavi was invited by the British peers and MPs to speak in Parliament but was refused permission to visit Britain after the Home Office ruled that it would have a "significant damaging impact on relations between the UK and Iran".
Maryam Rajavi was originally excluded from Britain in 1997 because of her leadership role in the terrorist MKO, a group proscribed as a terrorist organization before the ban was lifted by the Britain's Court of Appeal in 2008. Mrs May renewed the ban in October last year and again last month.