Five hundred other members of Mujahedin-e Khalq (MEK, also MKO and PMOI) are going to be expelled outside Camp Ashraf over the coming days.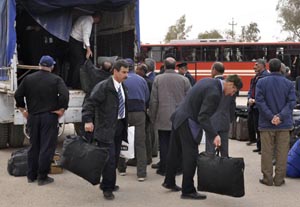 According to Habilian database, recent developments surrounding the expulsion of the cult members suggests that in addition to the imminent expulsion of these members, more than 1600 Ashraf residents are willing to voluntarily return to Iran.
The report also indicates that Iraq has issued arrest warrant for some 70 MKO members who were terror chiefs, torturers and interrogators.
According to reports, Iraqi officials did not allow 20 trucks carrying the 397 MKO members' stuffs enter the Temporary Transit Location and returned them to Camp Ashraf.
Earlier this week the first step towards the expulsion of MKO terrorists from Iraq was taken by transferring some 400 members to a Temporary Transit Location in order for UNHCR to determine their refugee status.
The relocation is in line with the memorandum of understanding signed on 25 December between Iraq and United Nations to temporarily transfer them to a former US military base for the UNHCR to determine their refugee status.
Despite UN's calls on Member States to demonstrate their readiness to accept eligible residents of Camp Ashraf who wish to resettle in third countries, still no country has expressed willingness to accept them.