Prime Minister Nouri Al Maliki confirmed the need for commitment to the agreement on the

Mujahedeen Khalq Organization of Iranian opposition, especially the deadlines of the eviction of MKO from Iraq.
A statement issued by the Prime Minister's office today "Maliki met with Special Representative of the UN Secretary General in Iraq, Martin Kobler."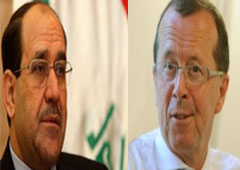 397 people from the residents of Camp Ashraf were transferred on January 18 to camp "Liberty" [TTL] in Baghdad, according to a memorandum of understanding signed by the Iraqi government with the UN on October 25th, 2011, for a humanitarian and peaceful settlement for the Camp Ashraf residents.
Kobler said "the MOU in general establishes a process whereby the Iraqi government will move the Camp Ashraf residents to a temporary site where the United Nations High Commissioner for Refugees UNHCR begins the process of determining refugee description which is a necessary first step to resettle them outside Iraq."
He added "the MOU contains a clear commitment by the Iraqi government to ensure the safety and security of the Ashraf camp residents in the new location, the government is also committed to the involvement of the Ministry of Human Rights actively in all stages of the process including the allocation of a liaison officer."
Camp Ashraf, which was established in the beginning of the eighties of the last century, is located about 155 km north of Baquba, capital of Diyala Province, it is the headquarters of the People's Mujahedeen Khalq Organization of Iranian opposition in Iraq, and includes more than 3400 people.
Nina News