The Iraqi government delegations warn Europe of Mojahedin Khalq's clear contravention of law
The Iraqi government is reportedly dispatching delegations to Europe to underline facts about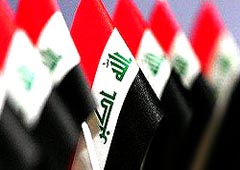 MKO's clear contravention of law and regulations. The delegation expected to have meetings with politicians and reporters in Geneva and Brussels includes deputies from Iraq's Ministry of Foreign Affairs, Justice and Human Rights, police and security departments as well as the committee members tasked to facilitate the relocation of the group's residents from its main military camp, Ashraf, to a temporary transit center (Temporary Transit Location TTL) near Baghdad.
Unyielding behavior of the terrorist group is turning an issue that is solvable in a peaceful way into a real crisis. The Iraqi government is ultimately decisive to close Camp Ashraf and expel the members of the designated terrorist group. So far more than half of the members housed in Ashraf have been relocated to transitory center but the process has been stalled since the arrival of the fifth group of residents on 5 May. To justify its non-cooperative behavior, MKO is inventing pretexts and imposing unacceptable conditions that underpin a blatant breach of an already brokered compromise.
MKO is uncompromisingly refusing to cooperate in transferring the remainders. The Special Representative of the Secretary-General for Iraq, Martin Kobler, has recently expressed his concern about the delay in the relocation of the residents, but what has much concerned him is a possible eruption of violent clashes between the sides. The Iraqi government seeks a peaceful solution to the problem. In contrast, MKO has been, from the very beginning, the antagonist side and the main impediment to the process of relocation. Not only the group prevents the process but also threatens to stand ready for any violent confrontation.