On Friday, November 7th, 2014 a delegation of former members of the Mujahedin Khalq Organization (the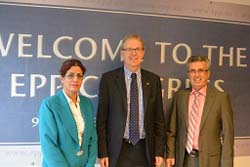 MKO) including Mrs. Batoul Soltani member of Iranian Women Society and Mr. Ali Akbar Rastgoo of Aawa Association met Mr. Axel Voss member of Group of the European People's Party (Christian Democrats) of the European Parliament, in his office.
They discussed the issues of the MKO Refugees in camp Liberty, Iraq.
Former members of the MKO asked Mr. Voss to facilitate the relocation process of residents of Camp Liberty to third countries in order to release them from caotic situation in Iraq and the oppressive rule of the organization over its members.
The delegation stated that the crucial case of the MKO refugees in Iraq is hardly ever exposed to members of the Euro Parliament due to influence of the MKO's lobbies there. They asserted that Members of the Parliament should look for receiving countries to resettle the refugees instead of calling for more protective forces for Camp Liberty and they should ask their states to play their role to solve a part of this problem as Albania Germany and Italy.
According to dissociated members of the Mujahedin Khalq, if each member state of the European Union receive a small number of Liberty residents, they will save the lives of these individuals without imposing too much pressure on their states.
The meeting lasted over an hour. At the end, Mr. Axel Voss expressed his pleasure over meeting MKO ex-members and hoped that the issue would be solved as soon as possible.
Aawa Association
Translated by Nejat Society