The Foreign Ministry Undersecretary, Labid Abbawi, head of the Iraqi delegation in charge of mobilizing support for Iraq's position to evacuate Camp Ashraf and secure transfer of its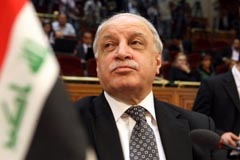 residents to the interim site of Camp Liberty in order to resettle them in third countries, participated in a meeting of the Relationship with Iraq Committee at the European Parliament held on Tuesday.
A statement by The Ministry of Foreign Affairs received by All Iraq News Agency (AIN) cited "The meeting focused on the efforts made by the Iraqi Government in order to secure the transfer of Camp Ashraf residents to Camp Liberty in a peaceful manner and in accordance with international standards and in respect to human rights and international humanitarian law."
"The Undersecretary started his speech by talking about the development of the political process in Iraq and Iraq's regional and international role, particularly after Iraq's hosting the Arab Summit, leading the joint Arab action, as well as hosting the meeting of the 5 +1 group on Iran's nuclear file," the statement concluded.
All Iraq News