The United States warned an Iranian dissident group on Friday that time was running out for it to vacate its Iraqi base camp, and said its hope to be taken off the official U.S. blacklist of terrorist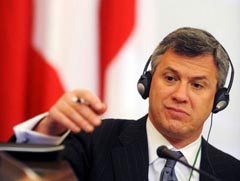 organizations could depend on its compliance.
Daniel Benjamin, the State Department's coordinator for counter-terrorism, said the Mujahadin-e Khalq (MEK) must complete its move from the Camp Ashraf facility, which the Iraqi government has vowed to close by July 20.
"It is past time for the MEK to recognize that Ashraf is not going to remain an MEK base in Iraq," Benjamin told reporters, saying Baghdad's patience was running out.
"The Iraqi government is committed to closing it, and any plan to wait out the government in the hope that something will change is irresponsible and dangerous."
The dissident group, which calls for the overthrow of Iran's clerical leaders, is no longer welcome in Iraq under the Shi'ite-led government that came to power after Saddam Hussein's downfall in 2003.
Also known as the People's Mujahideen Organization of Iran, the group led a guerrilla campaign against the U.S.-backed Shah of Iran during the 1970s that also included attacks on U.S. targets.
The United States added the MEK to its official list of foreign terrorist organizations in 1997, but the group has since said that it has renounced violence and has mounted a legal and public relations campaign to have its terrorist designation dropped.
COURT DEADLINE
Last month, a U.S. appeals court asked U.S. Secretary of State Hillary Clinton to make her determination on the MEK's status by October, a ruling hailed as a victory by MEK supporters.
But U.S. officials have stressed that Clinton – who has herself said that the disposition of Camp Ashraf will be key to her eventual decision – may still find against the group.
"MEK leaders appear to believe that the secretary has no choice now but to delist them. That conclusion is quite plainly wrong," Benjamin said.
"The MEK's relocation will assist the secretary in determining whether the organization remains invested in its violent past or is committed to leaving that past behind."
Despite repeated U.S. appeals to close the camp and the successful relocation of some 2,000 MEK members to a new holding facility near Baghdad, the group continues to have 1,200-1,300 members at Camp Ashraf and has taken no steps to relocate them since May 5.
The MEK has complained of mistreatment and poor conditions at the new facility, a large former U.S. military base, and U.S. officials say they have urged the Iraqi government to take steps to address some of the group's concerns.
Daniel Fried, Clinton's special advisor on Ashraf, said that while the Iraqi government had shown flexibility on earlier deadlines for Camp Ashraf, there was no indication it would do so again unless there were signs of significant movement from the camp by July 20.
"That date should put everyone on notice, and the MEK on notice, that it needs to proceed with the next convoy of people out of Camp Ashraf," Fried said.
Reporting By Andrew Quinn; Editing by Paul Simao