Addressing the Security Council on July 19th, the top United Nations envoy in Iraq highlighted the key role played by the UN Mission in the country, stressing that there is still much to be done to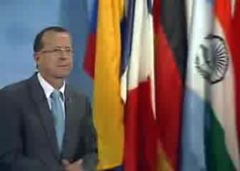 improve the political, economic, and social situation in the Middle Eastern nation.
The envoy voiced concern about the delay in the relocation of the residents of Camp New Iraq – formerly known as Camp Ashraf – to a new location, Camp Hurriya, prior to their resettlement in third countries.
"Time is running out to find a sustainable situation," Mr. Kobler said, urging the Camp Ashraf residents to cooperate with the Iraqi authorities and to relocate. He also urged Member States to offer resettlement to eligible former Ashraf residents, as "without prospect for resettlement the ongoing process runs the risk of collapsing."
Through UNAMI's facilitation, about two thirds of the residents have moved to the new location in the past months, but 1,200 residents still remain in Camp Ashraf.
Following his official report and briefing situation on Iraq Martin Kobler, appeared before the reporters to share his informal comments to the media.
In his comments, he verified the UN 24/7 hours monitoring at the Liberty and stated that the situation in Camp Liberty is ideal and humanitarian according to the UN living standards. He stressed that the UN monitoring team observed the needed water and electricity therein.
He also declared that the camp could afford to accommodate the remaining 1200 members at Camp Ashraf and the necessity of the residents' cooperation with the Iraqi authorities.Download Liberty conditions comply with UN living standards