Iraq's Prime Minister Nuri al-Maliki has urged the expedition of MKO members' expulsion from the Iraqi soil within the framework of the agreement signed with the United Nations.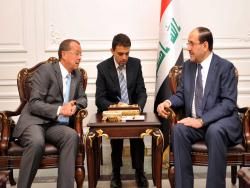 The office of the Iraqi Prime Minister released a statement saying, "In his Monday visit with Martin Kobler head of the UN Assistance Mission for Iraq (UNAMI), premier Nuri al-Maliki underscored the necessity of ending the terrorist MKO group's presence in Iraq before year-end."
According to the statement, Maliki urged the United Nations to speed up the closure of MKO's case in Iraq.
The relocation of roughly 3400 members of terrorist MKO group from Camp Ashraf to Camp Liberty is in line with the memorandum of understanding signed on 25 December between Iraq and United Nations to temporarily transfer them to a former US military base in Baghdad for the UNHCR to determine their refugee status.
Iraq's forthcoming elections and excluding the country from chapter VII of the UN charter were among other issues discussed at the meeting.
Thursday, 22 November 2012 Habilian