The terrorist Mujahedin-e Khalq Organization (MKO) has no popular base inside Iran even among the opponents of the Islamic Republic, which try to keep their distance with it, a new report says.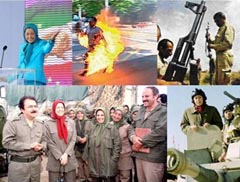 According to the report published by the Italian website www.diruz.it, the group is responsible for terrorist operations inside Iran during 1980s.
Members of the MKO, who had murdered over 17,000 Iranians since the 1979 Islamic Revolution, fled to the neighboring Iraq in 1980s, where they received military training from the former Iraqi dictator Saddam Hussein and set up Camp Ashraf in the eastern province of Diyala near the Iranian border.
During Iran's eight years of Holy Defense against Iraq's invasion of the country, the MKO terrorists sided with Saddam, who was armed by Western states especially the United States, with chemical and other weapons of mass destruction, against the Iranian people.
After the US invasion of Iraq in 2003, Camp Ashraf was demilitarized and nearly 3,500 MKO members became unwanted guests of the new Iraqi government.
There is also substantial evidence that the terror group was involved in the suppression of Iraqi Kurds and assisted Saddam Hussein in Halabja massacre on March 16, 1988, when at least 5,000 Kurds were killed by the former dictator with chemical weapons, the report added.
Another 7,000 were injured, crippled, or suffered long-term health problems due to Halabja poison gas attack.
This is while on September 21, US Secretary of State Hillary Clinton sent the Congress a classified communication about delisting the MKO from US terror watch list.
The group, which was described by the US State Department as a "foreign terrorist organization" for the past 15 years, was formally removed from Washington's list of terror organizations one week after Clinton's communication.