Iranians critical of MEK terrorist group seek protection
An open letter has been written by Iranians resident in France to French authorities asking for protection against the Mojahedin Khalq terrorist operatives in that country. The letter shows how a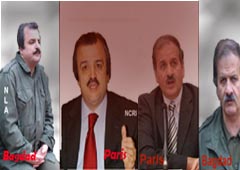 fabricated report by the MEK said to be from The Pentagon is being used to legitimise the physical elimination of critics and survivors of the Rajavi cult.
The report names two of Saddam's torturers, Mehdi Abrishamchi and Mohammad Mohaddessin, now posing as human rights activists in France, as part of an orchestrated attack by the Mojahedin aimed at eliminating
—
Dénonciation du « mensonge pentagonien » de Radjavi contre les repentis et les dissidents Iraniens
Lettre de l'association d'Aria adressée aux autorités française et au parlement européen
Paris, le 16 janvier 2013
Mesdames, Messieurs,
Chers présidents,
Depuis le début de l'année 2013, l'organisation des moudjahiddines du peuple d'Iran (OMPI) et ses différentes divisions ont lancé une vaste campagne spectaculaire contre les iraniens libéraux et les repentis de cette organisations.
Les leaders des moudjahiddines cherchent à neutraliser l'effet que les efforts des iraniens et des repentis peut avoir dans le sens de l'éclaircissement de l'opinion publique c'est pourquoi ils essayent de dévier les intentions en accusant les repentis et les iraniens libéraux de collaborer avec les gardiens de Qods et les agents iraniens de renseignements. De cette manière, les leaders des moudjahiddines etoufferont leurs dissidents à jamais.
Le dernier projet mensonger de l'OMPI s'est affiché dans le grand rapport légendaire Pantagonien ( !) sur le ministère iranien des renseignements dont seule, l'OMPI prétend son existance. Or, à ce jour aucun rapport de cette nature n'a pas été publié ni par le Pantagone et ni par le Congrès !
Mais l'OMPI ayant installé la base de ses activités terroristes en Auvers sur Oise, avec ses lobbies, a essayé de compléter son tableau de mensonges en falsifiant les logos et la signature de Pantagone afin de mieux vendre ses contrevérités.
Lorsque Massoud Radjavi et ses séctateurs ont subis l'echec juridique au tribunal de Paris sans pouvoir brader leurs accusations à travers d'un ouvrage signé par Monsieur Yves Bonnet et sans parvenir à convaincre leurs vieux lobbies habituels au parlement européen, alors ils transferent le centre de leurs chantages immoraux aux Etats Unis pour épingler ce faux rapport aux autres récits anti iraniens dont cette organisation est la productrice. D'ailleurs ce prétendu rapport est resté un énigme car aucune institution Etatique ne l'a approuvé. Il est évident que ce rapport restera dans le tiroir du bureaux des soi disant politiciens qui reçoivent 160 milles de dollars pour dix minutes de présence et de discours aux côtés de Maryam Radjavi !
Depuis quelques années, les moudjahiddines multiplient les efforts afin de limiter les activités de leurs dissidents. Pour cette fin, ils ont rencontré quelques colonels américains en les invitant à Paris pour rendre visite à Maryam Radjavi. Mais ces visites n'ont pas apporté le résultat recherché par les Radjavistes alors ils décident de solder leurs lobbies américains en faisant publier ce faux rapport dans les divers journaux sous le couvert d'une annonce publicitaire qui comprend une nouvelle sécuritaire et ultra importante venant de nulle part ! La télévision de CNN diffuse également cette annonce alors que le contenu parle d'un rapport fictif élaboré par le Congrès, le département d'Etat et le Pantagone ! Il est évident que le seul objectif d'un telle manœuvre consiste à terroriser les autorités européennes de sécurité et par conséquent isoler les dissidents de l'OMPI dans le continent vert.
Suite à la diffusion de cette annonce, les moudjahiddines ont orchestré une série de fanfares anti iraniens et anti repentis, en mobilisant leurs lobbies européens qui se réfèrent à la publicité de CNN pour exiger l'expulsion des repentis et des dissidents de l'OMPI, systématiquement présentés par cette organisation comme les agents iraniens de renseignements installés en Europe. Dans ce même sens, le comité parlementaire britanique avec la direction de Lord David Wddington et le groupe parlementaire des amis d'un Iran libres en Belgique, et certains mercenaires français étant dirigés par Massoud et Maryam Radjavi, Mehdi Abrishamtchi et Mohammad Seyed Almohadessine sous le couvert d'un groupe intitulé «les deux assemblés de l'Angleterre et du parlement européen » exigent l'expulsion de la famille '' Khodabandeh'' de l'Angleterre et l'association d'ARIA de la France.
Chers responsables
Après les recherches menées aux Etats Unis, en Allemagne, en France et en Belgique, il s'avère que ce prétendu rapport de Pantagone n'existe pas réellement et c'est une tentative de manipulation dont les moudjahiddines engage via leurs réseaux dans les divers pays afin de noircir leurs dissidents et d'autres militants de l'opposition iranienne en Europe. Or, le contenu de ce rapport se trouve exactement dans les différentes publications et communiqués de l'OMPI, étant répétés dans de multiples reprises par la télévision des moudjahiddines.
Le brouhaha des moudjahiddines, leurs objectifs et la terreur morale des dissidents
Les moudjahiddines tentent de manipuler l'opinion publique et atteindre les objectifs suivants :
Terroriser les dissidents, les repentis et les iraniens libéraux avec les accusations infondées telles qu' agents iraniens de renseignements …
Semer la terreur, sacrifier et exercer la pression sur leurs adversaires politiques afin d'évacuer le champ
Dévier et falsifier des actualités à leur gré pour s'échapper à la responsabilité de 30 années de terreur en Iran, en Irak et en Europe
Fuir le grand échec en Irak
Se venger de la démolition de l'organisation des moudjahiddines du peuple avec la chute de Saddam
Se venger aveugelement des repentis, des dissidents et des iraniens n'ayant pas souhaité d'approuver les démarches anti patriotiques de cette organisation
Se venger des familles des victimes et des membres refugiés au camp de Liberty
Souffler sur la braise des faucons en Occident
La vigilance des Etats et les autorités de sécurité
Avec un regard sur les dix dernières années, nous constatons facilement que les efforts des iraniens, des repentis et des dissidents de l'OMPI ont joué un rôle significatif dans la représentation de la réalité de cette organisation sectaire. Tous les services sécuritaires des pays européens ont également pu réaliser que les propagandes de l'OMPI contre ses dissidents ne servent qu'à fuir la vérité que les moudjahiddines n'ont jamais voulu admettre.
Les activités des iraniens et des associations opposés au terrorisme Rdjaviste , de l'Irak à l'Europe ont été clairement exercées dans le cadre de « la loi 1901 relative aux associations » et avec la permission de la police locale. Contrairement aux shows de Radjavi, pour aucune des activités socioculturelles des repentis et leurs amis , les mauvais acteurs des film de James Band n'ont pas été engagés par contre la police et la loi ont convenablement apporté leur soutien à ces efforts. Alors les acharnements de Radjavi contre ses dissidents sont constitués autours de plusieurs accusations infondées, de mensonges et de terreur morale dont ils peuvent être jugés par les tribunaux européens.
L'association d'Aria souhaite alerter les autorités judiciaires et sécuritaires de la France et d'autres pays européens en insistant sur le fait que toutes ces manœuvres sont conçues ,programmées et soutenues par les commandants des moudjahiddines installés aisement en Auvers sur Oise. Selon le communiqué du département d'Etat américain ces terroristes expérimentés (les moudjahiddines) ayat été expressément désarmés par les forces américaines après l'invasion de l'Irak n'ont vraiment pas renoncés à leurs manières terroristes et ils ont repris les mêmes méthodes terroristes dans la persécution de leurs dissidents en leurs faisant subir des harcelements moraux et juridiques.
Nous sommes prêts à dénoncer toutes activités terroristes des moudjahiddines dans les tribunaux français et demandons que les autorités françaises prennent les mesures nécessaires pour arrêter la machine de terreur véhiculée par les mensonges de cette organisation en Auvers sur Oise. La machination de Radjavi dégrade la tranquilité, l'esprit et les biens des iraniens dissidents de l'OMPI en les rendant plus accessibles aux menaces et aux dangers dont les sectaires Radjavistes peuvent leur causer !
La copie conforme de cette lettre est également envoyée aux :
Le ministère de l'intérieur
Le ministère de la justice
Le ministère des affaires étrangères
L'Elysée
L'ambassade de la grande Bretagne en France
Mme Catherine Margaret Ashton Haut Représentant de l'Union pour les affaires étrangères et la politique de sécurité
Les partis et les associations iraniens en Europe
L'ambassade des Etats Unis en France
Mr Martin Kobler Représentant spécial et Chef de la Mission d'assistance des Nations Unies en Irak (résponsable du camp Liberty)
Aria Iran, Paris