The Albanian government said on Saturday the Balkan country was ready to take in 210 members of an Iranian opposition group who currently live at a former US military base in Iraq.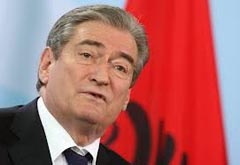 "The government is ready to accommodate in Albania, for humanitarian reasons, 210 members of the People's Mujahedeen of Iran", or the Mujahedeen-e-Khalq (MEK), Prime Minister Sali Berisha said in a statement.
Albania will take in the Iranians, who currently live at Camp Liberty near Baghdad, following demands of both the US authorities and the United Nations, he said.
The UN envoy in Iraq Martin Kobler and US Deputy Assistant Secretary of State Barbara Leaf on Saturday held talks with the Albanian authorities over security measures and housing conditions for the opponents of the Tehran regime, which would be in line with international law.
A February mortar and rocket attack on Camp Liberty, housing about 3,000 members of the MEK, killed seven people, according to the group.
The MEK was founded in the 1960s to oppose the shah of Iran, and after the 1979 Islamic revolution that ousted him the group took up arms against Iran's clerical rulers.
It says it has now laid down its arms and is working to overthrow the Islamic regime in Tehran by peaceful means.
Britain struck the group off its terror list in June 2008, followed by the European Union in 2009 and the United States in September 2012.