A defected member of the terrorist Mujahedin-e Khalq Organization (MKO) has revealed that the MKO terrorists are active in Syria under the cover of emergency and medical service providers.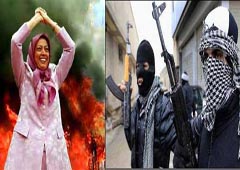 According to the ex-MKO member, who spoke on condition of anonymity, the members of the terrorist group are stationed at a base called "Hanif," which is disguised as a hospital, Mehr news agency reported.
The people working alongside the MKO members at the base do not know Persian and Arabic, and only speak English, the defected MKO member said.
Two members of the terrorist group, who were dispatched from the Turkish city of Istanbul to Syria to participate in the clashes in the Arab country, have recently been killed, the former MKO member said.
The two MKO members were the citizens of Denmark and Sweden.
The MKO previously cooperated with the foreign-backed militants in Syria through the Jordanian borders, but the terrorist group has now shifted to the Turkish border to infiltrate into the Syrian territory, the Mehr news agency report said.
In August 2012, a number of MKO terrorists detained by the Syrian government confessed that the MKO is training the militants on Turkish soil near the border with Syria, while certain Arab and Western states are providing necessary support for their activities.
In the summer of 2012, Iraqi and Syrian security officials announced that a large number of MKO members had entered Syria.
The unrest in Syria began in March 2011, and many people, including large numbers of army and security personnel, have been killed in the violence.
The Syrian government says the chaos is being orchestrated from outside the country, and there are reports that a very large number of the militants are foreign nationals.
Damascus says the West and its regional allies, including Qatar, Saudi Arabia, and Turkey are supporting the armed groups.