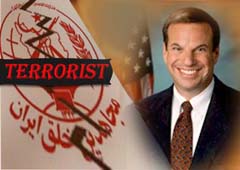 Mayor is mum on trip to Paris
Filner says only that the trip was to get San Diego jobs
San Diego Mayor Bob Filner just returned from Paris but declined on Thursday to answer questions about the travel or who paid for it.
Filner briefly told reporters at a news conference that the trip was not a "junket," but a "business trip which is to get jobs to San Diego."
He deferred further questions until a news conference he said he would hold Friday. U-T Watchdog has submitted public records requests for documents related to the trip, including the cost of travel for Filner's city security detail.
A news release from the National Council of Resistance of Iran said Filner attended a group rally in Villepinte, France, near Paris.
"My first question is who is paying for all this?" Councilman Scott Sherman said. "I don't get why a mayor of the city of San Diego would need to be there. I think he was beating feet as quick as he could to get out of town because of all the negative news media."
Filner left town late last week amid several controversies, including his use of a bodyguard to remove a City Attorney's Office representative from a council meeting last week.
Filner was also facing questions over a donation to the city from developer Sunroad Centrum Partners. Filner vetoed the builder's request to modify a Kearny Mesa development plan and then later dropped his objection after the company gave $100,000 to the city for a veterans plaza and a bicycling event — pet projects of Filner.
Filner has previously accepted travel from groups that are part of the National Council of Resistance of Iran. He went to Paris in June 2011, as a member of Congress. He also took a similar trip in June of 2007, federal records show.
His 2011 trip cost $6,589 and was paid for by Colorado's Iranian American Community, a group tied to the Mujahideen-e Khalq or MEK, the militant — and largest — arm of the National Council of Resistance of Iran.
That trip included a first class flight and a stay at a Marriott. Legistorm, a nonpartisan Washington DC-based organization that compiles information about Congress, including Congressional travel, noted, "This trip included unusually expensive hotel charges."
The 2007 trip to France, also paid for by Colorado's Iranian American Community, cost $7,949. The plane ticket in that case was business class.
During the mayoral campaign last year, Filner was criticized for accepting 16 free trips as a congressman, totaling $40,000. U-T Watchdog determined his travel was at the median for the county's congressional delegation, that is, third highest out of five legislators.
He said at the time, "I plead guilty to doing my job as a congressman, informing myself about world issues, building relationships with world leaders and fighting for human rights."
Filner is not alone in accepting travel from the Iranian groups. Others who have gone include former New York Mayor Rudy Giuliani and former Rep. Patrick Kennedy of Rhode Island.
In large part, the trips were part of a lobbying campaign to remove the MEK from the U.S. State Department's foreign terrorist organizations list. In a speech to the group, Filner compared their plight to the U.S. civil rights movement.
"This will happen," Filner said in a speech to the group in 2011. "This will happen. The laws, the facts, are on our side."
The de-listing effort succeeded last year.
U-T San Diego , By Trent Seibert