According to an official at the Iraqi prime minister's office on Friday, out of over 159 MKO terrorists granted asylum by the Albanian government, 70 members announced their separation from the group.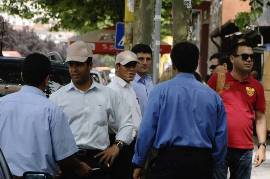 The unnamed Iraqi official revealed that these MKO members had been transferred from Camp Liberty, a former US military base in Baghdad.
The Albanian government has accommodated the 70 defectors in some apartments.
The MKO is listed as a terrorist organization by much of the international community and has committed numerous terrorist acts against Iranians and Iraqis.
The group fled Iran in 1986 for Iraq, where it received the support of Iraq's executed dictator, Saddam Hussein, and set up a terror camp known as Camp Ashraf in Diyala Province near the Iranian border.
In December 2011, the United Nations and Baghdad agreed to relocate some 3,000 MKO members from Camp New Iraq (former Camp Ashraf) to Camp Liberty.
On March 16, Albania's Prime Minister Sali Berisha announced in a statement that the Albanian government is ready to accommodate 210 members of the MKO group in Tirana "for humanitarian reasons."
Political experts, however, warn that Albania's decision to grant asylum to the MKO members has nothing to do with humanitarian concerns, and will give the terrorists a safe haven where they can work with former members of the Kosovo Liberation Army (KLA).
The KLA is notorious as a murderous group of drug traffickers and terrorists who receive training from NATO and the United States for operations around the world.