Another 11 MKO members set foot in Albania
Another 11 members of the anti-Iran terrorist Mujahedin-e Khalq Organization (MKO) have been transferred to Albania from Iraq.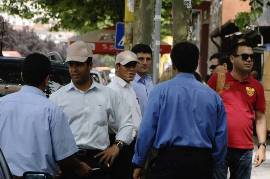 Informed sources at the UN office in the Iraqi capital, Baghdad, said the group, comprised of 10 women and a man, had resided in Camp Liberty in Iraq before being transferred to Albania.
Meanwhile, three leaders of the terrorist organization have also arrived in the European country from France to keep relocated members under closer surveillance.
The MKO is listed as a terrorist organization by much of the international community and has committed numerous terrorist acts against Iranians and Iraqis.
The group fled Iran in 1986 for Iraq, where it received the support of Iraq's executed dictator Saddam Hussein and set up Camp Ashraf near the Iranian border.
Out of the nearly 17,000 Iranians killed in terrorist attacks since the victory of the 1979 Islamic Revolution, 12,000 have fallen victim to the acts of terror carried out by the MKO. The group also sided with Saddam during Iraq's eight-year war on the Islamic Republic.
In December 2011, the United Nations and Baghdad agreed to relocate some 3,000 MKO members from Camp New Iraq, formerly known as Camp Ashraf, to the former US-held Camp Liberty.
The last group of the MKO terrorists was evicted by the Iraqi government on September 11, 2013 to join the other members of the terrorist group at Camp Liberty and await potential relocation to other countries.
Last March, then Albanian Prime Minister Sali Berisha announced in a statement that the Albanian government is ready to accommodate 210 members of the MKO group in Tirana.
Nearly 160 MKO terrorists had been previously granted asylum by the Albanian government.