On Friday September 13th, another group of MKO members residing at Camp Liberty as a temporary transit location transferred to Albania, reported by Mohammad Karami – MKO former member.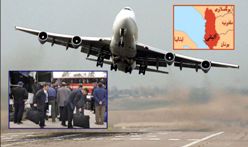 This is said to be the ninth group on the series of relocations to Albania.
A total number of 159 members have been relocated to Albania before this latest resettlement, based on the report.
Tirana has offered to house some 210 members of the MKO in Albania.
For years, the UN has been searching for countries willing to host the MKO members.
"Resettlement outside Iraq is now the priority, and it is urgent that countries ready to host the residents come forward to accept them, providing them a safe future outside Iraq," UN deputy special envoy Gyorgy Busztin said in a statement after the September 1st clashes at Camp Ashraf.