The first group of the new series of Camp Liberty residents to be relocated in Tirana.
The United Nations office in Baghdad is pursuing the transfer of the new series of Liberty residents whom the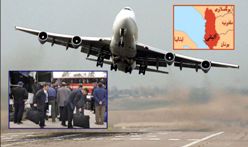 Albanian government has accepted.
Today, the first group is to be transferred to Tirana, Iran Interlink reported.
The group consists of 15 Liberty residents. The Cult leaders have assigned Ms. Habibeh Thavali as their commandant who is supposed to monitor them in order not to defect the Cult.
The government of Albania that had received 210 MKO members in 2013, accepted to receive another 210 individuals under the request of the US government. In November 2014, 115 Camp Liberty residents relocated to Tirana.