According to news coming from inside the Mojahedin Khalq terrorist cult HQ in France, after the recent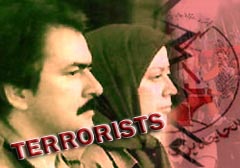 exposures and revelations by the survivors of the cult, in particular after Dr. Karim Ghasim, Dr. Mohammad Reza Rohani left the National Council of Resistance (NCRI, another name for Mojahedin Khalq) and the recent revelations made by Hadi Afshar (Saeed Jamali), Iraj Mesdaghi and others, the Leadership of the MEK have held a meeting chaired by Maryam Rajavi (Joint leader of the cult with her husband Massoud Rajavi) in which they have been discussing the effects of the revelations as well as deciding a line of action for damage limitation to the cult.
At the end of this meeting they decided the following lines of action to counter the effects of the revelations made by survivors of the cult and by political personalities as well as criticisms made by some of the nearest people to the organisation who now demand explanations:
– to create a false negative impression of the ex members and critics in their places of residence and among their social circles, and to start gathering signatures against them in these place;
– to collect some signatures and then make petitions and increase the number by adding false names (as they usually do) and then send these en-mass to all the relevant local places including town halls, churches, Party HQs etc and introduce these critics as terrorists who are in direct contact with Iran and the secret services of that country and therefore a danger to their society;
– to commission their paid lobbyists in parliaments, paid MPs and other bought, known people (working or retired) to create false documents against the critics of the terrorist organisation and send them to the foreign ministries of the relevant countries and other places;
– to gather factual information about the individuals, add false information between the lines, and produce documents against them. Then send their paid lobbyists to meet with judicial channels, police, politicians etc and produce damaging reports against these critics.
One such example is Amrollah Ebrahimi, a paid agent of the Mojahedin Khalq (NCRI,MKO ,MEK, Rajavi cult) who is tasked to gather and organise lobbyists among Netherlands's Members of Parliament. Another part of his job is to employ character assassination against given targets on the internet to portray them as corrupt by falsifying stories about them.
It is noticeable that up to this point there has not been any evidence that this expensive line of action and tactic has worked as the only people who have been listening to this disinformation are the cult members.
Mohammad Karami, Paris ,Translated by Iran Interlink