A delegation from foreign-backed Syrian National Coalition held a meeting with a group of the terrorist Mojahedin-e Khalq Organization (MKO) in the French capital of Paris, media reports said.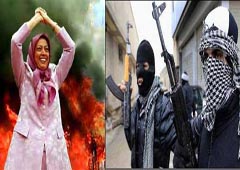 A delegation from the opposition Syrian National Coalition headed by Badr Jamous, the secretary-general of the coalition, and Abdulahad Astepho, a member of the coalition, met with a grup of MKO members in Paris on Tuesday, Jamous told Turkey's Anadolu Agency.
The meeting was held in a hotel in Paris at the request of MKO members, Jamous said, adding that the meeting was aimed at promoting friendship, coordination and exchanging experiences between the two sides.
The MKO — listed as a terrorist organization by much of the international community — fled Iran in 1986 for Iraq, fought on the side of Saddam Hussein during the Iraqi imposed war on Iran (1980-88), and was given a camp by Saddam.
The group has been behind numerous acts of terror against Iranian civilians and officials, and was involved in the 1991 bloody repression of Shiite Muslims in southern Iraq, and the massacre of Iraqi Kurds in the country's north.
Elsewhere, Jamous pointed to France's military support for the Syrian opposition groups, and said they were still waiting for the country's response as Paris is still mulling over arming the Syrian opposition.
"In Syria, we are facing the problem of air strikes and we have asked France to send us anti-aircraft weapons," he went to say.
Meantime, French President Francois Hollande also met on Tuesday with the leader of Syria's opposition National Coalition, Ahmad al-Jarba, in the Elysee Palace, Paris.
Hollande also announced that the opposition Syrian National Coalition's office in Paris will be opened soon.
Syria has been gripped by a deadly unrest since 2011. The UN says more than 130,000 people have been killed since the beginning of the unrest in 2011. More than 2.2 million Syrians have fled to neighboring countries while an estimated 4.25 million have been displaced internally.
It recently warned against the humanitarian situation in Syria, saying that over nine million people are in need of urgent aid due to the crisis in the Middle Eastern country.