The MKO's collaboration with terrorists; whoever wherever
Evidence of collaborating with terrorists in Syria and elsewhere is the issue for more impeachment of the Mujahedin Khalq Organization. The MKO connection with radical extremists has entered into an alliance with the world's leading terrorist organization al-Qaeda and eventually its factions in Syria —in their zeal to overthrow the present governments in Syria and Iran. The MKO-SFA marriage of convenience is particularly de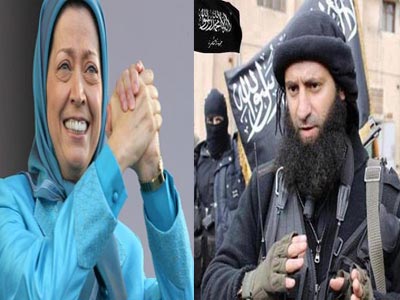 ep and it centers on the drive to survive the lethal crisis in the Middle East.
Head of the Syrian Opposition Coalition (SCO) Ahmad Jarba called the members of the terrorist MKO as brothers of the Syrian opposition, reported FNA. "The MKO and the Syrian Opposition Coalition are brothers," Jarba said in a meeting with MKO ringleader Maryam Rajavi in Paris a couple of days ago. During the meeting, Jarba also hailed MKO's terrorist operations against Iran.
The visit between the two self- claimed presidents took place a few days after their delegations met in Paris. The meeting was held in a hotel in Paris at the request of MKO members, Badr Jamous, the secretary-general of the Syrian coalition told Turkey's Anadolu Agency. Jamous added that the meeting was aimed at promoting friendship, coordination and exchanging experiences between the two sides.
The mutual services between the two terrorist groups associates them with the support of a major force in the region: Israel. In March 16th, Haaretz reported, "The Syrian opposition is willing to give up claims to the Golan Heights in return for cash and Israeli military aid against President Bashar Assad, a top opposition official told Al Arab newspaper, according to a report in Al Alam."
Just the same as the MKO in Iran, the so-called Free Syrian Army has no actual popular base and military capabilities inside Syria. FSA consists largely of a group of defectors from the Syrian Army who are safe-housed on military bases inside Turkey. All of the significant military actions targeted at the Syrian government have been carried out by al-Qaeda terrorists, who have infiltrated the country from Iraq. The suicide bombings in Damascus and Aleppo, the assassinations of Syrian government and military officials, and the sabotage of pipelines and other infrastructure have all been carried out by al-Qaeda.
In Iran, the MKO has turned into the proxy force of Israel in the assassination of its nuclear scientists and spying operations on the Iranian nuclear program although the group claims that it has renounced violence since 2001. However, before the alleged date the MKO's numerous acts of violence against civilians and officials verifies the terrorist substance of the group.
Definitely, common benefits make common enemies for terrorist groups and their sponsors including Israel but the outcome of their alliance has not been anything except the devastation of their homeland and their country fellowmen. Photos of Syrian cities in ruins demonstrate the ultimate failure of rebels that claim to want to bring prosperity and freedom for its people. This is absolutely what Maryam Rajavi promises her misled followers, a democratic secular government!
Regarding the minimal public support the MKO hardly ever enjoys in Iran, its alliance with the most dangerous terrorists of the world will not help it the declining situation it is stuck in right now.
By Mazda Parsi