A number of Jordanian parliamentarians and political figures stated that they have refused to attend the annual conference of the terrorist Mujahedin-e Khalq Organization (MKO, a.k.a. MEK).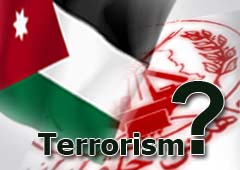 According to a report by the Arabic language newspaper al-Arab al-Yawm, a number of Jordanian members of Parliament have turned down invitation to the annual gathering of MKO in Villepinte, due to the presence of some Syrian opposition members.
The oral statement adds that the Syrian government opposition is performing the Western countries' anti-Arab programs targeting the unity of this country.
Former deputy speaker of Jordanian Parliament, Nariman al-Rousan, said "we've informed the MKO that due to inviting the Syrian opposition members, we have boycotted this year's annual conference of them."
She said the boycott is because they cannot ignore Syria and the support for its unity and Army, adding that some members of the Syrian opposition who were executor of the foreign plans aimed at dismantling the unity of Syria were among the attendees of this conference.
The event, held annually by the terrorist MKO group, is intended to celebrate the anniversary of MKO's armed struggle against Iranian civilians in June 1981. The group-let claims that tens of thousands of Iranians attend the Villepinte gathering from across Europe.