Mottaki made the remark at an open session of Majlis in response to a question by Majlis deputy from Semnan Mostafa Kavakebian about reaction of the Iranian Foreign Ministry to anti-Iran statements made by 12 Jordanian MPs…
He stated that hours after being informed of the Jordanian MPs' statement,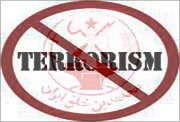 Foreign Ministry summoned the Jordanian ambassador to Iran to inform him of Tehran's strong protest and demands for explanations on the part of the Jordanian government.
He noted that Iran's envoy to Jordan was invited to the Jordanian Foreign Ministry to be informed that the Amman government considered the MKO as a terrorist group and did not support it.
The Jordanian Foreign Ministry also announced that Jordanian MPs' move was personal and is not confirmed by the government of Jordan, added Mottaki.
"The Jordanian parliament speaker announced that Jordan does not confirm such a move," said Mottaki.
Mottaki said that as a result of Iran's reaction, independent Jordanian dailies called the move "wrong".
He added that the Jordanian foreign minister, who had travelled to Tehran to attend a meeting of the Non-Aligned Movement (NAM), announced "We under no conditions officially recognize the grouplet." On the MKO presence in Iraq, Mottaki said, "Americans and Saddam regime provided the MKO with a safe haven and necessary facilities.
Now following the fall of Saddam regime, we should take new initiatives for expulsion of MKO members from Iraq."
He referred to his meeting with Iraqi Foreign Minister Hoshyar Zebari in Tehran on the sidelines of the NAM meeting, where the Iraqi official announced that Baghdad had reached final agreement with Americans to take over the control of Ashraf camp from multinational forces.
He hoped that the decision by the Iraqi government will soon be enforced.