As MKO terrorists hired Polish students, Afghani refugees and actors to cheer
Jordan rejects any connection with Mojahedin Khalq gathering Reported by: BBC Monitoring Middle East Text of report by Jordanian newspaper Al-Arab al-Yawm on 30 June [Report by Walid Husni: "Twelve MPs Are Among 33 Jordanians Attending Mojahedin-e Khalq's Conference in France"]
Engineer Abd-al-Hadi al-Majali, speaker of the House of Representatives, has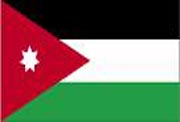 denied that the House has anything to do with the participation of 12 MPs in the conference of the Mojahedin-e Khalq Organization in France. The conference is expected to conclude its meetings today, Monday, 30 June.
In press statements yesterday, Al-Majali said: The House has nothing to do with the participation of the MPs in that conference. None of the MPs has consulted with the House, or its standing bureau, or has even spoken with me about that participation.
Al-Majali said that the participation of the MPs was in response to personal invitations and that each MP who attended the conference only represents himself, and does not represent the House of Representatives. He added: "I have no knowledge of that participation and I do not know the names of the attending MPs, who only represent themselves, and do not represent the Jordanian House of Representatives."
Twelve MPs were among 33 Jordanian figures who left Amman for the French capital, Paris, last Thursday to participate in a conference held by the Iranian opposition organization Mojahedin-e Khalq, led by Maryam Rajavi, who delivered a speech at the opening of the conference the day before yesterday. In her speech, Rajavi called for removing the organization's name from the list of terrorist organizations, like the decision made by Britain last week, while the State Department's list of terrorist organizations still includes Mojahedin-e Khalq among global terrorist organizations.
It is said that the participants in the conference include MPs Mamduh al-Abbadi, Nariman al-Rusan, Muhammad Abu-Hudayb, Fakhri Iskandar, Abdallah al-Gharayibah, Muflih al-Ruhaymi, Ahmad Dandan al-Utum, and Ibrahim al-Umush. The conference will conclude its meetings in a north Paris district today. The Jordanian delegation, which includes political, media, and party figures, will return to Amman this evening.
Al-Arab al-Yawm, Amman