Jordanian Deputy Vasfi Al Zyoud: I support the MEK out of my loyalty to Saddam
Vasfi Al Zyoud, MP in the Jordanian parliament said he supports the MEK terrorist organisation because they were sponsored by the for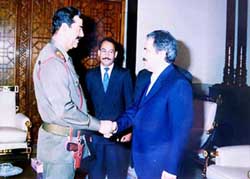 mer Iraqi president, Saddam Hussein, pointing out that support for this organization by several Jordanian MPs stems from their loyalty to Saddam Hussein.
Al Zyoud defended the presence of a Jordanian parliamentary delegation in the Conference to support the MEK recently held in the French capital Paris.
As reported by Ashraf News, Al Zyoud said through his Facebook page, "Remember always that the Iranian opposition was sponsored by Great Martyr Saddam Hussein, and our faithful commander met with them and listened to them and I will talk about those meetings."
The Jordanian Parliamentary delegation, which comprised 19 MPs from the Congress, drew sharp criticism from some observers who said that the move could worsen relations with the Iraqi government, which calls for the deportation of MEK members living in Camp Liberty on its territory.
Ashraf news,Translated by Iran Interlink