To Barak Obama, President of the United States of America
Dear President Obama,
We are a group of ex members of the People's Mojahedin Khalq Organization (PMOI aka MEK, MKO, NCRI),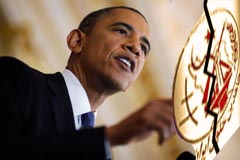 who have been victims of this terrorist cult. We read your far reaching speech in the State Department Web site on September 10, 2014. We would like to express our highest appreciation and admiration for the deep understanding of the issue of terrorism and cults in the Middle East region shown in your speech.
You have precisely addressed the real roots of the formation of al-Qaida and ISIS, and expressed your deep sorrow for the barbaric crimes committed against innocent women and children by the terrorist ISIS in Iraq. You also mentioned their barbaric collective summary executions of soldiers.
Mr President,
The unfortunate existence of terrorist cults in the Middle East region and their anti-human behavior is a deep wound that its healing is only possible by preventing them from recruiting and from gaining financial, military and political power.
The al-Qaida and ISIS experience proves that the free world should be proactive rather than reactive, and such terrorist cults should be degraded and ultimately destroyed before the people of the world and the region especially women and children start paying the heavy price with their lives.
Therefore as you have mentioned, "these terrorists are unique in their brutality. They execute captured prisoners. They kill children. They enslave, rape, and force women into marriage." There should be a unique and united policy towards all the terrorist cults. There should not be good and bad terrorists as some with the intention of opening room for future terrorist groups to form imply.
We believe there are a tremendous amount of similarities between the ISIS that was described in your speech, and the Iranian terrorist Mujahidin-e Khalq. Indeed, many experts on Iraq and Iran share the view that the Mujahidin in Iraq provide media and logistics support for ISIS.
Some of the common characteristics of the Mujahidin and ISIS are as follows:
1. The Mujahidin hide their anti-western and anti-democratic thinking from the general public. While they believe in religious lifelong leadership and Islamic Caliphate and have been practicing it within their cult for years, they pretend publicly to believe in democracy and free elections.
2. Whilst they deeply and strongly believe in armed struggle and the use of violence to achieve their goals, to win their case in a court in Europe, the leaders pretended to be against any violence and armed struggle. Even so, there is still a weapon in their emblem which is a sign that armed struggle is in their ideology.
3. The Mujahidin-e Khalq severely violate human rights. The dissident members were arrested, tortured, jailed in solitary confinement inside their barrack named Ashraf in Iraq and later transferred to Abu-Ghraib prison in Iraq. The Human Rights Watch report published in 2005, about the Mujahidin-e Khalq's violations of human rights based on the victims' direct evidence, clearly and strongly condemned their abuse of human rights. The victims are ready to testify to your administration or US Government officials in person. Also the reports of defecting and escaping members in recent years confirms still more the Human Rights Watch report.
4. The Mujahidin, in cooperation with Saddam Hussein's army participated in the imprisonment and brainwashing and execution of the Iranian POWs in Iraq during the Iran-Iraq war.
5. Massoud Rajavi, the leader of the Mujahidin, ordered compulsory marriages inside their cult after the disastrous military attack on Iran from Iraq in 1988 which resulted in the deaths of 1400 of its members. During these forced marriages hundreds of women who had lost their husbands, had to marry male members not of their choosing.
6. Massoud Rajavi who considers himself as a caliph, a supreme religious and political leader of the people of the world, one year later ordered forced divorce of the Mujahidin families, and he later married himself to all these divorced women.
7. To pave the way toward marrying the divorced women members, he completely destroyed their families by separating even the children from their parents and sent them outside Iraq so there would be no common grounds for the divorced couple to meet or interact. Some of those children, who numbered about 800, aged 7 months to 8 years, were kept in Mujahidin bases in Europe and the USA where they were brainwashed so they would remain obedient and loyal to the cult. Later, clearly against the Geneva Conventions, some of those children aged 15-16 were sent back to Iraq to take part in military operations in which some were killed, and some are still in imprisoned inside camp Liberty. Some of these children have been seriously mentally and socially disordered due to separation from their families.
8. The defected women members of the Mujahidin who have successfully escaped from the Camp in Iraq and been able to reach the west, say that they have been systematically sexually abused by Massoud Rajavi. On the order of Massoud Rajavi and through the administration of Maryam Rajavi women members were forced to undergo needless hysterectomies as a means of destroying any hope they might have of returning to a normal and natural life. Many of such defected women members are ready to talk to any fact-finding body in person.
Dear President,
The Mujahedin was established with the strategy of destroying US led Imperialism. This is our knowledge after some 30 years inside the Mujahidin. Its pretence to be liberal and democratic is a tactic to help them reach power, after which their main strategy can be applied.
As we mentioned earlier in our letter there are no good terrorists, or safe terrorists. All are waiting for their own right time to spread as a cancer in the region or elsewhere.
Apparently the Mujahidin are considered good or safe terrorists so that their high ranking officials such as Mr Alireza Jafarzadeh and Ms Sona Samsami, who used to wear military uniform and commanded military operations, have an office in Washington DC and officially represent the Mujahidin (as their front organization the National Council of Resistance). For your information, Mr Alireza Jafarzadeh had requested in writing (see attached), to commit a suicide attack in order to prove his loyalty to Rajavi.
We wish you success in your fight against all forms of terrorism. We also greatly appreciate and thank you for reading our letter.
Most Respectfully,
1. Rabeae Shahrokhi
2.Nasrin Ebrahimi
3. Khodabakhsh Roodgar
4.Roohola Tajbakhsh
5.parvin Haji
6.Mohammad Hossein Sobhani
7. Alireza Nasrolahi
8.Ali Akbar Rastgou
9.Seyyed Amir Movaseghi
10. Edward Termado
11. Alireza Mirasgari
12: Ebrahim Khodabandeh
13.Ehsan Roshanzamir
14.Majid Roohi
15.Jafar Ebrahimi
16. Saeed Hazrati
17.Ghorban Ali Hosseinnejad
18.Ghafour Ftahiyan
19. Batoul Maleki
20.Homayoun Kohzadi
21.Mitra Yoosefi
22.Zahra Mirbagheri
23. Anne Singelton (Khodabandeh)
24.Ayoub Kordrostami
25.Karim Haghi
26.Masoud Khodabandeh
27. Mehdi Nikbakht
28. Mehdi Ahmadi
29. Ali Ghashghavi
30. Arash Sametipour
31.Mehdi Khoshal
32. Alireza Bashiri
33. Ali Hatami
34. Hamed Sarafpour
35. Naser Rezwani
36.Behzad Alishahi
37. Hamidreza Salmani
38. Shirzad Jalili
39.Milad Ariyaee
40. Karim Gholami
41. Mehrdad Sagharchie
42. Abbas Sadeghi
43.Farzad Frazinfar
44.Mehdi Sojoudi
45. Hamid Dehdar
46. Abdolkarim Ebrahimi
47. Ali Bidi
48.Mahboobe Hamze
49. Hassan Azizi
50. Ali Jahani
51. Mirbaghe Sedaghi
52. Nader Naderi
53.Mohammad Razaghi
54. Saeed Naseri
55. Mahmoud Sepahi
56.Mostafa Mohammadi
57. Mohammad Karami