Open Letter to the Prime Minister of France: Mojahedin Khalq in Auvers-sur-Oise trained in chemical warfare
Dear Mr. Manuel Valls, Prime Minister of France,
With respect for you and for the people and the government of France.
My name is Mohammad Razaghi. I am one of many ex members of the Mojahedin Khalq Organisation (aka MEK, MKO, PMOI, NCRI, Rajavi cult). I reside in your country as a political refugee. Prior to this, I lived in the camps given by Saddam Hussain to the MEK for about 20 years.
Dear Mr. Prime Minister,
As you know, a few weeks ago the savage, murderous terrorist group of so called Islamic State (aka ISIS, ISIL) took the lives of 12 innocent French citizens which broke the hearts of millions of people across the globe.
As a political refugee in your country I feel obliged to inform you and your government about the danger posed to the people of this country by the Mojahedin Khalq.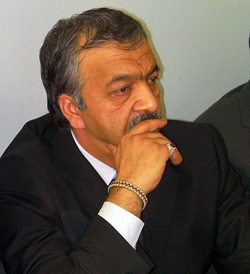 Members of this organisation have been forced by the leaders (Massoud and Maryam Rajavi) to participate in classes held by the Republican Guard of Saddam Hussain in order to master the use of small and heavy arms, as well as tactical courses in using explosives and carrying out clandestine operations, including bombing tactics, etc. I personally know the name of tens of these highly trained and motivated terrorists who currently reside in the HQ of Maryam Rajavi in the north of Paris at Auvers-Sur-Oise.
It is a widely known fact that on the direct order of Maryam Rajavi, these trained terrorists would carry cyanide capsules whenever they would have to travel to Baghdad or to the Iranian borders (essentially anywhere outside the camp). They would of course carry these capsules during terror operations inside Iran or other countries. They were instructed to destroy themselves rather than be captured alive should any conflict arise.
But the most important point I want to bring to your attention is that this terrorist group has also been trained in the manufacture and use of WMDs, specifically Chemical Weapons.
Dear Prime Minister,
I think the Mojahedin Khalq (Rajavi cult) must be the only terrorist organisation which knows how to make and use a variety of deadly chemical agents.
I have been witness to the manufacture of these deadly agents inside camp Ashraf in Iraq by members of the organisation. The leader of the group responsible for this activity was Zohre Akhiani, who has now been promoted to the leadership of the group, after which the group was passed to the leadership of a woman called Mahboubeh Ali. The highly trained engineers who would make these deadly agents were known members such as Javad Ghandi, Morteza Valipour, Hamid Shakeri and others.
During the period of my involvement with this organisation I repeatedly witnessed that Mehdi Abrishamchi (currently residing under the name of Mehdi Tehrani in the HQ of Rajavi cult in the north of Paris) announced openly in meetings and internal TV broadcasts that when the French Interior ministry summoned him on terrorism charges during his stay in France, he took a cyanide capsule with him hidden under his tongue.
In 2003, after the arrest of Maryam Rajavi, Massoud Rajavi ordered the preparation for attacks on French national interests across the EU as well as Iraq, Jordan and Turkey. The planning started straight away in Camp Ashraf with no hesitation.
Mojghan Parsaie, the number one of the organisation (after Massoud and Maryam Rajavi as the Ideological leaders) and Sedighe Hossein her lieutenant, were in camp Ashraf at the same place where I was. She told us: "If the French insist on keeping Sister Maryam (Maryam Rajavi) longer than this, then they should prepare themselves for retaliation. How hard do you think it is to contaminate their water resources? In under on hour thousands of French would be killed." I was not alone. This was said to a large group of members.
I and many of my friends have witnessed the murder of disaffected members by poison and chemical agents. People like Mehri Mousavi and Minoo Fathali were killed with chemical agents which had been manufactured by other members.
Dear Prime Minister,
Based on nearly 20 years first-hand experience inside the Rajavi cult, I can say with confidence that the members of this group currently stationed in their HQ in Auvers-Sur-Oise and the way they are misusing the freedom and democracy offered by your country, together with the training and the motivation to build explosives and chemical weapons, are much more dangerous than ISIS. At least for the people of France.
I can state with confidence that according to the information which is now in my possession, the trained agents of this group come to European countries claiming to the authorities that they have run away from Iran hence asking for asylum under the UN conventions. According to ample evidence in my possession, they come here with false passports provided by the organisation, some of whom reside in their HQ in the north of Paris. I can produce this evidence whenever and wherever it would be needed.
Dear Mr. Prime Minister,
I am ready to present myself in any place at any time your government sees appropriate in order to prove these facts and may I remind you that we, the ex-members and survivors of this group, are under daily threat from this group They openly announce that they will assassinate us in the streets of European countries (with a history of repeated planned attacks on the critics and ex-members here). It is clear that one of the main targets Maryam Rajavi has chosen for her trained terror groups being imported to France are the survivors of her cult who dare talk about their experience and what they have witnessed.
I urge you to be more sensitive to the wellbeing and the lives of the witnesses of the crimes against humanity and war crimes committed by the leaders of Mojahedin Khalq Organisation (Rajavi cult) in this country and do not allow Maryam Rajavi to send her trained terrorist gangs after us to shed our blood as her critics.
With my best wishes for you, the government and the people of France and wishing you every success in your government's fight against terrorism.
Yours respectfully,
Mohammad Razaghi (political refugee in France)
CC:
Interior ministry of France
Foreign ministry of France
The mayor of Auvers Sur Oise