As an abundance of nuclear non-proliferation experts rallies behind the Joint Comprehensive Program of Action (JCPOA) signed last month by the P5+1 and Iran, the paucity of arms-control specialists who oppose the deal has become increasingly apparent. Indeed, the latter seem as rare as the diminishing number of climate and atmospheric scientists who still question whether human activity is contributing in important ways to global warming.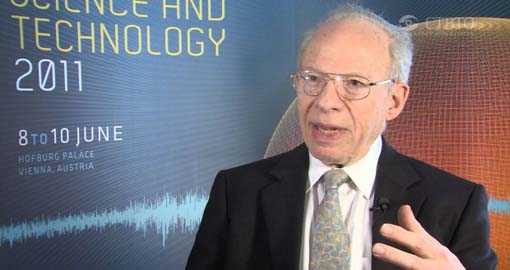 The Arms Control Association (ACA) released a joint statement on Tuesday endorsed by 75 of the world's leading nuclear non-proliferation specialists, including a former director of the International Atomic Energy Agency (IAEA) and former top U.S., UN, and foreign government non-proliferation officials. The statement concludes that the July 14 agreement "is a strong, long-term, and verifiable agreement that will be a net-plus for international nuclear non-proliferation efforts."
The accord, the statement goes on, "advances the security interests of the P5+1 nations (China, France, Germany, Russia, the United Kingdom, and the United States), the European Union, their allies and partners in the Middle East, and the international community."
Though all of us could find ways to improve the text, we believe the JCPOA meets key nonproliferation and security objectives and see no realistic prospect for a better nuclear agreement.
We urge the leaders of the P5+1 states, the European Union, and Iran to take the steps necessary to ensure timely implementation and rigorous compliance with the JCPOA.
The statement comes just 10 days after 29 top U.S. nuclear scientists and engineers released a two-page letter to Obama congratulating him and his team on "negotiating a technically sound, stringent and innovative deal that will provide the necessary assurance in the coming decade and more that Iran is not developing nuclear weapons, and provides a basis for further initiatives to raise the barriers to nuclear proliferation in the Middle East and around the globe."
As noted in The New York Times account, the first signature on that letter was from Richard L. Garwin, "a physicist who helped design the world's first hydrogen bomb and has long advised Washington on nuclear weapons and arms control. He is among the last living physicists who helped usher in the nuclear age."
Garwin and five others who signed the August 8 letter—including Frank von Hippel, the former assistant director for national security at the White House Office of Science and Technology Policy—also signed ACA's statement released Tuesday.
Particularly notable among the other 70 are former IAEA Director General Hans Blix, several former UN under-secretaries-general for disarmament affairs, including the current commissioner of the Japan Atomic Energy Commission, Amb. Nobuyasu Abe, Amb. Jayantha Dhanapala, and Amb. Sergio Duarte. Signatory Jacqueline Shire served as a member of the UN Panel of Experts for Iran established under a 2010 UN Security Council resolution that, among other things, was set up to tighten restrictions on Iranian financial and shipping enterprises related to "proliferation-sensitive activities."
Other former senior international officials with responsibility for non-proliferation oversight or enforcement include Tariq Rauf, the IAEA's former head of the Verification and Security Policy Coordination unit; Laura Rockwood, a nearly 30-year veteran as head of the IAEA's section for Nonproliferation and Policy making in the Agency's Office of Legal Affairs; and Thomas Shea, former IAEA Safeguards official and head of its Trilateral Initiative Office.
The signers also included a host of former senior State Department, Pentagon, and White House officials who have had direct responsibility for nuclear proliferation issues, such as Amb. Kenneth Brill, a founding director of the US National Counterproliferation Center (2005-09); Robert Einhorn, the State Department's Advisor for Nonproliferation and Arms Control (who also participated in the P5+1 negotiations; former Principal Deputy Under Secretary of Defense Jan Lodal; and Andy Weber, former Assistant Secretary of Defense for Nuclear, Chemical, and Biological Defense Programs.
Absent from the list of signatories is Gary Samore, who worked as White House coordinator for Arms Control and Weapons of Mass Destruction during Obama's first term. He subsequently served as president of the strongly anti-Iran United Against Nuclear Iran (UANI) until last week when, as we noted, Sen. Joseph Lieberman replaced him. Samore has decided to support the deal, while UANI's leadership and donors remain strongly opposed.
Vox's Max Fisher published an interview on Monday with UANI's CEO, former Amb. Mark Wallace, that helped illustrate the challenge faced by UANI, AIPAC, and other groups opposed to the JCPOA: the dearth of serious non-proliferation experts who support their position.
Max Fisher: One of UANI's real assets has been having a leader with Gary Samore's credentials as a pedigreed arms control expert. Did you guys think about looking for a replacement who could also be seen as firstly an arms control wonk?
Mark Wallace: Well, Olli Heinonen, for example, is on our advisory board. I still have Gary's arms control expertise; I don't think that has changed. We have [head of the Nonproliferation Policy Education Center] Henry Sokolski. Olli Heinonen has been a big player in this. Even David Albright, even though he's not affiliated with us, has been very useful. I'm trying to label them all arms control wonks, you know what I mean; they're familiar with the space.
We've been doing this now for a long time, and I think that the nature of the deal is quite well-framed. I don't think there's a lot of debate about the terms anymore. Certainly that expertise matters, but all of our team, we have a very seasoned team, but there are no secrets to that agreement anymore. Well, actually, there are some parts of the agreement that are secret, but you know what I mean. The terms of the agreement are well-baked, and there's enormous commentary on all of them.
And you do see skepticism from the very serious people in that community, which I would characterize as Gary Samore, Olli Heinonen, and David Albright. I think their skepticism has been quite loud and clear about the agreement.
Max Fisher: With a couple of exceptions whom you named, the arms control community seems to have generally lined up behind the Iran deal. I think some people see the change in leadership in UANI as a sign that you guys are no longer focusing on trying to persuade the arms control community. Is that fair?
Mark Wallace: I don't see what you describe. When I think of the real experts who have led in the space, it's really been Gary [Samore], Olli [Heinonen], Henry [Sokolski], and [David] Albright. Those are leaders in that space. Olli's statements have been quite concerned about the deal, and even Gary acknowledges that there are some real problems with the deal.
Max Fisher: Okay, still, the fact remains that UANI will transition from being led by an arms control expert to being led by a politician. How should we read that?
Indeed, weighed against the list of signatories compiled by Arms Control Association, and what with Samore explicitly supporting the agreement, the list of non-proliferation experts on the opposition side looks very thin indeed. And, to the best of my knowledge, neither Albright nor Heinonen has come out explicitly against the JCPOA, although Heinonen has made it a habit to speak about his reservations at events sponsored by just about any group opposed to the deal. For instance, Heinonen has spoken at least twice (see here and here) before front groups of the Mujahedeen-e-Khalq (MEK), the expatriate Iranian group that a lengthy lobbying and legal campaign helped get removed from the State Department's terrorism list in 2012 in exchange for its agreeing to disperse its Iraq-based militants to third countries.
One key signatory of Tuesday's statement was Leonard "Sandy" Spector, deputy director for nonproliferation studies at the Middlebury Institute of International Studies and a former assistant deputy administrator for Arms Control and Nonproliferation at the U.S. National Security Administration. In early 2013, Spector co-authored a report with Albright, Foundation for Defence of Democracies (FDD) president Mark Dubowitz, and two others that called, among other measures, for Washington to "increase Iranian isolation, including through regime change in Syria" and "undertake …overt preparations for the use of warplanes and/or missiles to destroy Iran's nuclear capabilities with high explosives." Only if Tehran provided "meaningful concessions," it said, should sanctions relief be considered, according to the report.
It appears clear that Spector, presumably like Samore and the expert non-proliferation and arms control community in general, has been persuaded that the Obama administration has indeed obtained "meaningful concessions" from Iran and that the deal should be approved. But it also appears that, as with climate change, Republicans don't care.
Jim Lobe,