Agreement of cooperation signed in Tehran between Iranian News Agency (IRNA) and Albanian Telegraphic Agency (ATA)
The open communication established with counterpart agencies based on a professional point of view has enabled the Albanian Telegraphic Agency to expand its institutional cooperation with news agencies not only in the region but also beyond it. In the framework of this cooperation and a new approach of communication between the two countries, the Iranian News Agency (IRNA) and Albanian Telegraphic Agency (ATA) have signed an agreement of cooperation.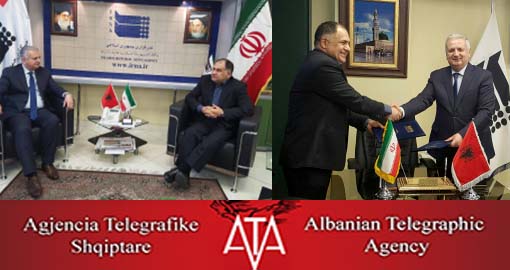 For the Albanian part, the agreement was signed by director general, Gëzim Podgorica, meanwhile for the Iranian part it was signed by director general, Muhammad Khodadi.
Both sides described the signing of agreement as a crucial moment for both countries and a great opportunity to bolster the joint communication. While Iran and Albania are expected to boost their exchanges in trade, tourism and culture, the official information shared via institutional channels will be to the mutual benefit of this cooperation.
At the meeting between the two delegations, director Mohammad Khodadi pointed out that for the agency IRNA any cooperation is of high importance and the signing of this agreement is a concrete and great opportunity to gain new insights into Albania and everything your country offers, but also to give a new boost to communication between the two countries. I believe that the information we are going to exchange will ramp up the media presence of Iran and Albania and vice-versa, however they increase in value due to the timely information items portraying the latest developments in both countries.
For his part, ATA director general Gëzim Podgorica thanked Mr. Muhammad Khodadi for the invitation to visit Iran and the willingness to sign this agreement. Mr. Podgorica went on saying: "Iran, as a country that has witnessed an array of civilizations and empires, has made a great contribution to the world culture. The relations of Albanians with Iran go back a long way in history, suffice it to mention our great national poet, Naim Frashëri, whose first poetry book Tehajula (Dreaming) has been written in Persian. The conference slated for October, this year in Iran in honor of this outstanding personality is a testimony to these relations and a high appreciation of Naim Frasheri as well as a sign of the will to add a civilized dimension to our rapport.
As agencies, today we pave the way for a new communication, which will enable the public of both countries to develop new insights into complex developments, but also into history, traditions, culture, tourism and others. Iran boasts great assets in this direction not only as a big country but also as a country steeped in ancient history. On the other hand, Albania, although a small country geographically, boasts exceptional assets in culture and art. Through an open communication, there will be ample opportunity to turn the spotlight on these assets and this is all that matters – ATA director general Gezim Podgorica said. During the stay in Iran, the ATA delegation has visited a number of important historic and cultural sites.
ATA delegation also toured the venues of IRNA, where they were briefed with the efforts to deal with challenges on media market. The agency IRNA broadcasts in 8 languages and has correspondents and broadcasting centers in 32 countries worldwide. It has a staff of 1300 employees and issues 5 daily newspapers in Persian and English. It has 256 correspondents in different cities across Iran and 36 regional agencies. During the visit to IRNA, the delegation of ATA was also informed on the performance in photo archives and digitalization.
Sonila Mehmeti, ATA, Tirana,