The Association for Defending Victims of Terrorism, ADVT is an Iranian non-governmental organization. It's members are all victims of – or have lost loved ones to terrorism. At the 27th United Nations Human rights council in Geneva they held this panel on terrorism and human rights.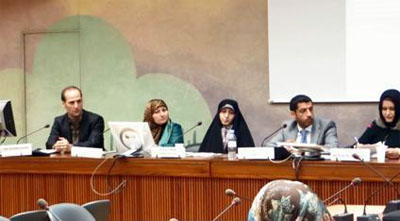 Speakers from Iran, Britain and the United States are here. Shia, Sunni and Christian. Also here are Iranian victims of terrorism to tell their story. Like Mansoureh Karami, whose husband Massoud AliMohammadi was the first Iranian nuclear scientist to be assassinated in Tehran. Today, the world's attention is on the violence and terrorism of ISIL in Syria and Iraq. A statement read on behalf of Iraqi Assyrians, warned that the entire population risks being wiped out of the Nineveh province. NGOs warn of a catastrophe, where the story of the victims are lost. The stories heard here will sadly not be the last – but they hope by sharing their experiences they can somehow help.
Also:
Association for Defending Victims of Terrorism (ADVT) Holds a Panel on: Terrorism and Human Rights
Link to the source
Panelists:
Dr. Hamid Sajadi, Chief Executive of Association for Defending Victims of Terrorism (ADVT)
Ms. Rubab Mehdi Rizvi, Chairperson of Markazi Imam Hussain Council
Dr. Mohammed Serkal, the UN Coordinator on Minorities Rights, Alkhoei Foundation
Ms. Janet McElligott, Activist, Former US White House staffer and Counterterrorism Expert
Ms. Mansoureh Karami, Wife of Assassinated Nuclear Scientist, Massoud Alimohammadi
Ms. Masoumeh Eskandari, Daughter of Terror Victim
Mr. Ali Alssarray, President of International Organization against Terror and Religious Intolerance
Mr. Nineb Lamassu, Research Assistant, Faculty of Asian and Middle Eastern Studies, University of Cambridge
Date: September 17, 2014
Time: 11:30- 13:00
Venue: Room XXIV, Palais des Nations. Geneva, Switzerland
Themes:
· Examining the reasons for the increasing ability of terrorist groups in recruiting new members from around the world;
· Analyzing the role of civil society and victims of terrorism in countering terrorism;
· Drawing the attention of the world people to a return to traditional for of slavery which is carries out by hostage-takings of terrorist groups of ISIS and Boko Haram;
· Evaluating the international responses specially the Resolution 2170 of the UN Security Council in which victims of terrorism and long-term impacts of terrorist attacks on them are not considered.
The Association for Defending Victims of Terrorism, ADVT, Geneva