The cult of Rajavi has become so far from the realities of the free society. The isolated atmosphere of the cult has caused a clear distance between the inside and outside of Camp Ashraf so as it is really unable to do anything out of the camp relations. They are even terrified of the visits of the members and their families who are so limited to have a short visit under the sever control of the officials of the cult.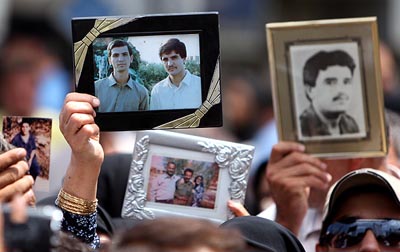 The leaders of MKO have invested too much effort to prevent the family visits which have double consequences for the MEK.
From one side, the member who has visited his family is suddenly shocked due to the short time of separation from the controlling cycle which rules the cult, so he become depressed and passive after the visit; he gets far from the illusionary atmosphere of the cult where he was under sever manipulation techniques. This condition (becoming shocked, out of the illusions which surrendered his mind) is considered as a deadly poison by the leaders of the cult.
Therefore, they immediately try to clear up the effects of the visits on the minds of the individuals by using their organizational indoctrination methods.
From the other side, the supervision system ruling the organization, suspects any person (with any rank degree) whose family comes for a visit. The person becomes their anti security subject since then. The patrolling and monitoring teams of Camp Ashraf control him all the time, supervising all his behavior in any situation.
One probability which is considered about those who had family visits is that they are supposed to escape from the camp by the help of their families.
The disciplinary Relations of Camp Ashraf includes:
"Any relative or family member of Ashraf residents, who want to visit in Camp Ashraf, should be considered as the agent of the Intelligence Ministry and there is no way for their immediate check. Especially the older brothers or sisters of the members or the ones of their relatives, who have already supported the organization and had been imprisoned because of that, are the agents of regime who come to Camp Ashraf in order to make contacts and get intelligence."
Thus, following the visits, Mujahedin have always the feeling that the person has been recruited by the Iranian Intelligence Ministry and must be completely isolated.
To justify their claims and to prevent the forces from making problems, they tell the members:
"since the families are much far from us, the Islamic Regime has worked on their minds for so long and recruited them."
The important issue that should be noticed again is that although MKO uses its entire controlling monitoring system to keep the members isolated, the family visits are still the main security problem for MKO and it can never surmount the influences of the emotional relationships.