Since 1981 when the National Council of Resistance of Iran was founded by Abul Hassan Bani Sadr(the first Iranian President who fled Iran together with Masud Rajavi),the most influential members has left the council . The significant example is Banisadr himself, who left the NCRI after Masud Rajavi made a treaty with Tariq Aziz; the Iraqi general whose country was in war with Iran at that time. The result of Bani Sadr's defection was the absolute leadership of Masud Rajavi on NCRI as well as MEK. For further information on the process how the NCRI became the umbrella organization for MKO you can read Ann Singleton's book "Saddam's Private army."
In 1990's, due to the lack of democracy and the dictatorship of Masud Rajavi, the NCR became a tool, depended on MKO, to be used along with Mujahedin's objectives. In 1993, the majority of members of NCRI (about 95%) were MKO militants.
Nowadays, the NCRI is the main front organization, for MEK to achieve Western support with its" Diplomacy section" which is under the charge of Mohammad Seyed Al-Mohaddesin and of-course directly under the supervision of Masud Rajavi.
In fact the non- Mujahed members of NCRI have no influential role but the main role belongs to MKO which is listed as a terrorist organization by EU, US and Canada. The NCRI was also added to the list in 2002
The activities of the Diplomacy section are as followings:
Lobbying activities and campaigns in the European parliaments and US congress and Senate, trying to gain their support in various ways including showing the journals claiming to have their colleagues'' support, showing list of signatures of their alleged supporters …
The NCRI, itself includes many other front institutions that launch fundraising activities throughout Europe and North America. By showing pictures of Iranian orphans they solicit large amounts of money and then with their complicated money laundering operation, they send the sums to their bank accounts in Turkey or UAE. The money will be used to buy arms for their terrorist activities.
Their deception policy does not end up to here. MKO's large payments to western politicians is a big motivation for them to speak at its rallies which are mostly held in other countries, European capitals with wonderful tour that nobody can ignore having fun in a free trip.
The gathering with western lecturers who have democratic slogans and allegedly want to make democratic change in Iran would be further motivation for the others who will be deceived by the NCRI in future.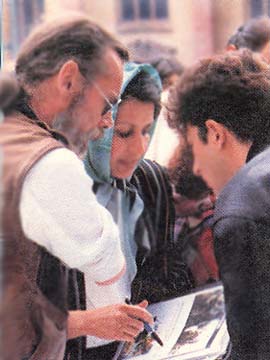 The Mojahedin fundraise in shopping malls, airports, train stations, and other busy places. They would stop people and show them pictures and ask the people to help those children. In reality,the money raised would be spent on many terrorist activities in Iran.