Discovery and seizure of advanced telecom devices in MEK food convoy entering Camp Ashraf – Khalis Mayor calls for investigation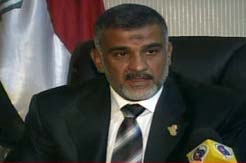 Mayor of Khalis in Diyala province, Uday Al Khadran, called on the Iraqi government to open an urgent investigation after advanced telecom devices were seized in Camp Ashraf which is home to a number of the Mojahedin Khalq terrorist group.
In a press statement Al Khadran said that the security services had found 80 phones hidden in a suspicious manner inside a shipment carrying food. The shipment came from one of the Arab companies which had bid to secure the needs of the MEK members in the camp.
Al Khadran said that the way the devices had been hidden demonstrates an intention to use them in a non-legal framework that is unlawful activities. He said, "these devices and the sophisticated way they were hidden show the MEK's intention to use them illegally".