Iran poses no threat to the United States: Ex-US Air Force Lt. Col.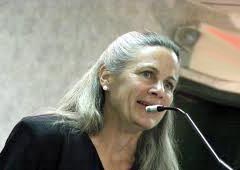 Karen Kwiatkowski is a retired U.S. Air Force lieutenant colonel who spent some 4 years working at the Pentagon. Since her retirement, she has become an outspoken critic on the U.S. foreign policy. Holding a PhD degree in World Politics from the Catholic University of America, Kwiatkowski is a prolific writer at the LewRockWell.com and the American Conservative.
Colonel Kwiatkowski is primarily noted for openly and publicly denouncing what she sees as a corrupting political influence on the course of military intelligence leading up to the invasion of Iraq in 2003. Her most comprehensive writings on this subject appeared in a series of articles in The American Conservative magazine in December 2003 and in a March 2004 article on Salon.com.
Dr. Kwiatkowski joined Habilian Association in an exclusive interview, and shared her ideas on a number of issues. What follows is excerpt of the interview selected by Nejat Society:
[…]
Habilian: The US considers itself to be at the forefront of the war on terrorism and censures other countries for their alleged sponsorship of terrorist groups. But, it took Mujahedin-e Khalq off its list of terrorist organizations, and there are credible evidence showing that Washington has been supporting MEK in its terror ops, both militarily and financially. Isn't it a hypocritical approach in dealing with the issue of terrorism?
Kwiatkowski: I am personally disgusted by the many years of political support for the MEK by neoconservative elements among the US political class. It is beyond hypocritical, and the history and shifts regarding the MEK– in many ways a western proxy organization from the beginning — is simply one more means of war and provocation against another country, that like drone warfare, is a mechanism that provides the United State government with deniability, ambiguity, a lack of accountability, and ultimately hurts US credibility and interests.
Habilian: Would you please touch on Canada's dropping MEK from its official list of terrorists?
Kwiatkowski: I don't follow Canadian politics, but I'm sure Canadian politicians are as venal as the ones we have in the United States. There is a strong and growing tendency for both Canada and Mexican government to fall in line with Washington — I do celebrate when I see Mexican and Canadian leaders expressing their national sovereignty by distancing themselves from US decisions and actions. I don't see this often, though.
Habilian: And finally, speaking at the French National Assembly on December 5, 2012, MEK leader Maryam Rajavi asked France and the western countries to recognize them as an opposition group as they recognized the Syrian coalition against Assad. What's your take on this issue? Do you think this group can bring democracy?
Kwiatkowski: I'm not overly familiar with Maryam Rajavi — however, I remember reading about her and the MEK in my days at the Pentagon. My sense was, and remains, that this group is dependent on outside money, serves interests that may have nothing to do with their published propaganda. I left the Pentagon in 2003, nearly a decade ago. Maryam has led the MEK since 1993, and it appears she inherited the position from her husband. That doesn't sound very democratic, and I suspect that Rajavi knows little about, and cares little about, democracy. The very fact that her organization is favored by a powerful sector in Washington should undermine it as some sort of people's movement for Iranians dissatisfied with the mullahs and/or Ahmedinejad. Beyond that, Iran already has democracy. Ahmedinejad is an elected leader, much as Obama is. I frankly don't see democracy as a solution to much of anything. Small, limited and lawful governments — whether they be led by kings or parliaments — deliver far more peace and prosperity than do large, unlimited and unlawful governments, even if those large, unlimited and unlawful governments were "democratically" elected.
With regard to Syria — the war supporters in Washington DC and allies in Europe who are involved in Syrian national politics have been working overtime, without the benefit of public scrutiny, comment or awareness. To wish to be "recognized" by such corrupt governments is revealing, and little good for the people of Syria or the people of Iran respectively, will come of it.